Without intending to overstate the point, what a year 2017 was. Throughout the last twelve months, the world has seen the most unlikely turn which brought power to President Donald Trump, mourned the loss of such fantastic musicians as Tom Petty, Chris Cornell and Chuck Berry, and saw an absolutely tremendous amount of new and exciting music appear on new release racks. Fans were absolutely awe-struck As some bands revisited their catalogues and capitalized on the recent renewed interest in vinyl recordings while other artists reasserted fresh new energy into their songbooks – and that doesn't even touch upon the new acts which exploded seemingly from nowhere. It was a truly incredible year; but of course it falls to the critics to choose who did the best, most inspiring work. That task wasn't an easy one, but I pulled it off the best I could – and below you can find the results. These were my favourite new albums and reissue albums or 2017.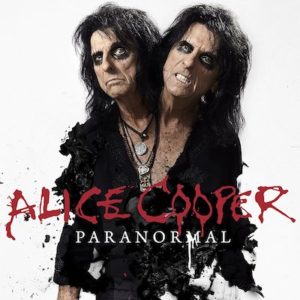 10. Alice Cooper – Paranormal (EARMUSIC) – It seemed like such a simple thing but, when the surviving members of the original Alice Cooper Group got back together and made a couple of public appearances beginning in 2015, the moment suddenly invigorated interest in all the singer's surrounding operations. Suddenly, people were really, really excited about Alice again so it only made sense that the singer would try to capitalize on that somehow, but it's unlikely that anyone saw Paranormal coming. Sure, the two new tracks recorded by the revived band are included here and they are awesome, but that status is also reflected in the other ten songs which comprise the album. Now, rather than simply trying to mimic the sound achieved by the original members on their contributions, songs like "Rats," "Private Public Breakdown" and "Fireball" all successfully reach a meeting ground between the sounds of "old Alice" and "new Alice" and present a new sound which is simultaneously classic, fresh, exciting and absolutely captivating. Add to that presentation a selection of I've cuts culled from a 2016 show in Columbus, OH, and what fans find is a fantastic and satisfying presentation of Alice Cooper; the album accommodates everything and everyone and retains its focus to present something for every fan of the band.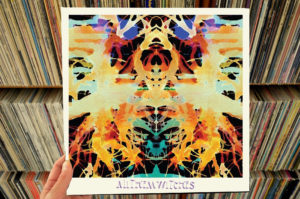 9. All Them Witches – Sleeping Through The War (New West) – They might not actually be from the desert, but that doesn't mean All Them Witches haven't channeled the heat, aridity and weirdness normally associated "desert rock" and front-loaded it onto their fourth full-length album, Sleeping Through The War. From the moment stylus sinks into vinyl, All Them Witches simply throw those listening in head-first and concentrate on presenting a thoroughly unique experience that it really doesn't matter if they take or leave – it is just there before them. That doesn't mean trying to keep up with the band as the record plays is always the simplest thing, but the way the vinyl presents itself definitely has a hypnotizing quality about it and will have listeners who run front-to-back with it hungry for more. [Read more]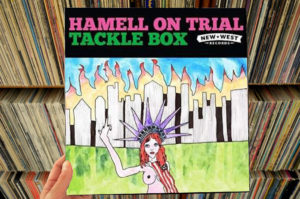 8. Hamell On Trial – Tackle Box (New West) – The fact is that some musicians need to have something which genuinely pisses them off – something they find truly abhorrent – before them in order to produce their best work. Take Ed Hamell, for example; Hamell has been a politically-minded songwriter since he first appeared in 1996 but his best music has always appeared when either societal problems had reached a particular pitch or the man sitting as the American president was doing something profoundly foolish.
With that in mind, there's no doubt that Donald Trump's America is the perfect stage from which Hamell can complain — and does he ever do it a lot on his newest album, Tackle Box.
Tackle Box plays like a fantastic, angry and (most importantly) articulate assault on "Trump's America," and wisely ensures that the album does not speak for the singer alone. Here, Hamell speaks for the young, the elderly for women and for men as he worries about the political climate in America (beginning with "Safe"), as well as speaking out clearly against the quasi-fascist demeanor of modern day police tactics and the ongoing battle for equality in America. While she critics may complain that Hamell paints with very broad strokes at every turn through Tackle Box, the truth is that each turn through the album just feels right and just as they hit listeners with a tone which is equal parts intelligent, humorous and cathartic. [Read more]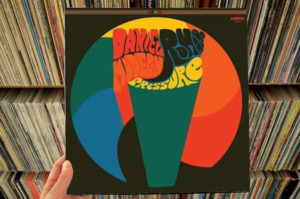 7. Daniel Romano – Modern Pressure (New West) – Modern Pressure continues in the Daniel Romano's tradition of spontaneous reinvention but, this time, he has aimed for something which is simultaneously more expansive and less generically specific; rather than pinning into punk or indie or anything like that, he has chosen instead to assemble an album inspired by the multitude of sounds, (production) styles and ideas which first began to germinate in the 1970s. The warmth of what sounds like analogue recording embraces each song, giving them a familiarity regardless of whether listeners have heard them before or not, and that instantly gives the music an enticing quality from the moment "Ugly Human Heat (Part 1)" opens the A-side of the album. That familiarity would be a success in itself, but there's more to what "Ugly Human Heart" is offering too; the jangling piano, reverb-touched and sinewy bass which dominate the song sound as though they might have been inspired by the Billy Joel, Tom Petty and the Heartbreakers, Elton John and Eric Clapton albums which appear in the collections of most every man who came to the age of majority around 1975 (read: the spoils that Romano would have had the chance to pick through as a kid), but that it's presented with such meticulous attention to detail as it is on Modern Pressure betrays a sense of ambition guaranteed to get listeners paying really close attention. They'll want to know everything they can learn about the care Romano has taken with this first song and why, and also where the record might be headed after it lets out – if "Ugly Human Heart (Part 1)" is just a one-off which happens to open the album or if it's simply the lede where everything starts. [Read more]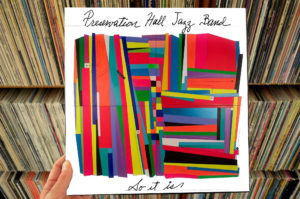 6. Preservation Hall Jazz Band – So It Is (Legacy/Sony Music) – As soon as stylus touches vinyl and the A-side of So It Is begins to play, listeners will find themselves completely bowled over by how completely different the album's title track feels from jazz's long-established norm. With equal amounts of Dixieland and Cuban jazz characterizing the sound, the nine-piece behemoth just launches itself brightly and tightly right up into listeners' collective face. There is no coy methodology at work here, nor is there any ridiculous, "cool" extended introduction – everything just appears quickly a dn gets to work. Even on first listen, no one will be able to deny that what Preservation Hall Jazz Band is pushing around is refreshing to hear. [Read more]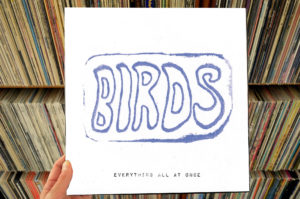 5. Birds – Everything All At Once (Greenway Records) – It might sound contrived to someone who has yet to experience it themselves, but the idea that great music is capable of moving a listener spiritually and emotionally is a very real thing. On the right day, the first listen to a record can excite a listener, amaze them, inspire them, hook them and drag them to places that it's possible they didn't realize existed within themselves. Calling that kind of an experience a religious one doesn't quite do it justice because "religion" implies a desire for redemption from something, but the experience of a great new record that was here-to-fore unknown and unheard of to a fresh of ears is capable of utterly and completely changing the perceived field of what that listener thought they knew or held to be true. It can be pretty awesome – particularly when nothing else seems the same after that first time through the running of the album in question. I'm lucky in that I've been able to experience a couple of those "perception altering" albums, but I listen to enough music that I know how rare and special events like that are. It is for that reason I can say Birds' new album, Everything All At Once, rightly commands attention; in a time when the number of voices decrying the death of rock n' roll has reached a new and staggering high, this album not only defies them all, it makes believers by walking a pretty spectacular walk too. [Read more]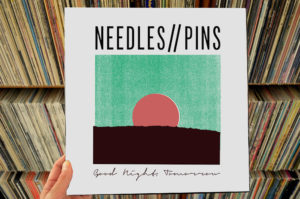 4. Needles//Pins – Good Night Tomorrow (Mint/Dirt Cult) – Such occurrences are rare but sometimes, all the tumblers just happen to align. A band doesn't just produce the best damned music of their career, it also happens to get released in just the right place at the right time (and enough people just happen to be looking and listening just the right way) that the music catches a large amount of attention. There are too many variables at work to try and plan something like that; it pretty much has to happen by coincidence. But when it does happen, it can be so special and great that the fans that album wins never forget it and they keep coming back in hopes of catching another moment even half as charmed as that one. For Toronto-via-Vancouver transplants NEEDLES//PINS, that first great moment is their third album, Good Night Tomorrow. This time out, the band had already trimmed its personnel down to a tight power trio which helped, but the most important things are that singer/guitarist Adam Solomonian's voice has developed some natural scruff and snarl about it with the help of a regular touring regimen and general misuse (go back through the band's first two full-lengths and it's pretty clear that he was trying too hard and pushing his voice too earnestly). And the band finally got a producer (two of them, actually – Jesse Gander and Chuck Jones) to properly capture what is truly their best set of songs to date. [Read more]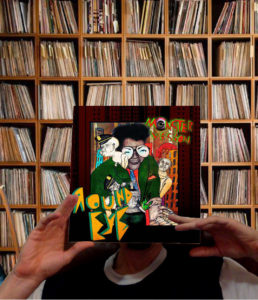 3. Round Eye – Monstervision (Sudden Death) – Since first appearing as the "band on the other side of a split album with Libyan Hit Squad" a couple of years ago [the idea was for Full Circle to be a sort of bridge between projects for LHS/Round Eye singer Chachy Englund – one band was ending, the other one starting –ed], Round Eye has always been upfront regarding its' affinity for vinyl releases, but the band's sophomore album proves that this group of maniacs isn't just dabbling in wax; they know how to build an album so that it is perfectly measured and balanced to sit evenly on a 12" long-playing record. Here – more than on the CD release of of the same album (which was released earlier this year), every song and vignette comes off as having been carefully tailored to fit into this runtime and make a tight and focused presentation. For a wild-eyed and notoriously manic freak-punk band, that kind of care for presentation is unheard of, but it is impossible to deny on Monstervision. [Read more]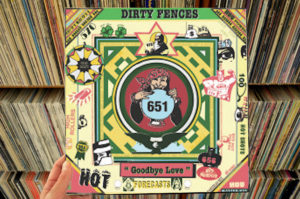 2. Dirty Fences – Goodbye Love (Greenway) – From the moment "All You Need Is A Number" starts the album's runtime with a crash and a flourish (yes, at the same time), listeners will be held utterly in awe of "Goodbye Love". Right from the beginning, bassist Max Camaskey, guitarist Max Roseglass and singer/guitarist Jack Daves summon the sort of infectious mix of "long-songs-played-quickly" punk and gutsy rhythm n' blues with which the MC5 were known for kicking out the jams [Editor's note: In this case, the vinyl pressing surpasses its digital download counterpart for equalization; the bass in the download doesn't just swallow all the low end in the mix, it makes the mid-range muddy too] and throw it hard and straight at listeners' collective sternum – it threatens to knock the wind out of the unwary. After that, "All You Need Is A Number" doesn't pause once for effect or to let listeners focus/make sense of what they're hearing, it just slashes through like the rush which comes from taking really good amphetamines and then rides along on that velocity. On first play, listeners will be stunned; it will definitely take more than one trip through the song to really get a sense of what just hit them (the second or third time through reveals the glory of lyrics like "Set fire to the page for the sound it makes/ Tell the kids that all it takes are the right mistakes," but the power of the sound will inspire several listens anyway), but anybody who loved/has missed the all-out abandon and expression-first requirement of punk rock as it was when it first appeared in the mid-Seventies will be sold on this album already – hook, line and sinker. [Read more]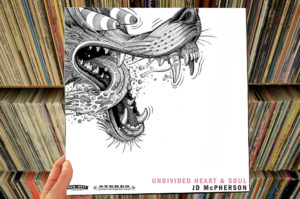 1. JD McPherson – Undivided Heart & Soul (New West) – The beauty of JD McPherson's new album is that calling it a "classic" or "fantastic new album" is definitely apt and accurate, but neither phrase affords the album the distinction it deserves. From note one, Undivided Heart & Soul employs a directory of time-honored songwriting and performance staples which have historically spun yards of platinum for those who have used them previously. At any given moment, listeners will recognize streaks or pop, soul, rock n' roll, rockabilly, surf, psychedelic rock and more running through the songs found here, as well as vintage production cliches. What sounds like vintage coil reverb touches every tone a listener hears here, but there is also some rotund bass which sounds like it could have been lifted right out of a Desert Session – and that's only the beginning of the densely layered overdubs used to create these songs. And it's all presented with the utmost care and respect while at the same time boldly using those forms to etch an all-new sound perfectly unique to this singer. [Read more]
The Best Curiosities:
While not technically curiosities (yup, each one was definitely a musical release), there were a few titles which came out this year which weren't exactly reissues because they had never been released before, but didn't necessarily feature new music either. Simply said, they were their own little curiosities, but were also absolutely essential listening for the right community. They were very rare birds too; there were (in this critic's estimation) not ten – there weren't even five – and that made them all the more important to seek out. Find your copy and love it, reader!
Butthole Surfers – Locust Abortion Technician 10" EP (Red Eye/5 Music): While not technically a new release (all four tracks contained on the Locust Abortion Technician EP originally came out on the full-length album of the same name thirty years ago), this ten-inch EP did mark the first occasion in over a decade when the Butthole Surfers re-appeared on new release racks, which is definitely an occasion due of marking. The four songs included are by no stretch the band's best work, but that they successfully re-present the all-out weird spirit of the band is undeniable. That in and of itself makes it essential. [Read more]
Mike Watt – Ring Spiel '95 2LP (Legacy/Sony Music): How does one quantify/qualify a document which is obviously unique and special, but went without formal release until twenty-two years after being recorded? That is what happened to Ring Spiel '95; originally captured during Mike Watt's 1995 tour in support of his "wrestling album" Ballhog Or Tugboat?, Ring Spiel '95 sees Watt take Eddie Vedder and Dave Grohl on the road as his backing band. The results are absolutely excellent; each of the album's sixteen cuts brims with ambition and high-octane as the band seeks to ensure that no comparisons (to old bands or studio recordings) can possibly be made and it works better than anyone could possibly expect or imagine. [Read more]
Reissues:
Okay, so obviously the concept of reissuing old material is a far cry from new at this point – in fact, reissues are about as common as it gets, these days. There were some pretty damned good ones which came down the pipe in 2017 though. I personally relished in re-living memories associated with each as much as I did with the remastered sound. In no particular order, these were my favorites:
Lars Frederiksen and the Bastards – s/t (Pirates Press/Hellcat vinyl reissue)
Lars Frederiksen and the Bastards – Viking (Pirates Press/Hellcat vinyl reissue)
Our Lady Peace – Naveed
Our Lady Peace – Clumsy
Tom Petty and The Heartbreakers – Into The Great Wide Open
Tom Petty – Full Moon Fever
Tom Petty and The Heartbreakers – Damn The Torpedoes 
Change Of Heart – Smile
Neil Young – Decade
Robert Johnson – Century Edition (Record Store Day reissue)