Captain Beefheart & His Magic Band
Trout Mask Replica
[Third Man Records Reissue]
There is a bit on Marc Maron's standup album Thinky Pain where, after talking extensively about his vinyl midlife crisis and trying to find the perfect record player how it's time for him to "understand Beefheart." I will never be smart enough or large enough of mind to assess and understand Captain Beefheart. It's just hanging there. In many ways, he's not wrong; there aren't a lot of musical avenues which find a terminus at Captain Beefheart, or even pass by that place peripherally. The music isn't exactly in the mainstream. I had an ever-so-slight upper hand on getting into the music, I started at Trout Mask Replica. That's the one, you know? Marc Maron started at Safe as Milk. The difference between the two, as far as I can tell, is that Safe as Milk is cool as hell, but Trout Mask Replica is a leviathan.
I can't explain the sound of Captain Beefheart except to say that one I first heard the music I thought I was listening to Tom Waits. Yeah, that took Tom Waits down a couple notches because I always thought he was incredibly unique at what he did. And by that I mean playing growly blues rock. But nope, Captain Beefheart did it first and, after trying to digest Beefheart (and you will ALWAYS be digesting it), I think I might have to say that Trout Mask Replica might be a turning point for music in general, like a whole new genre got einvented. It just sounds so ambitious, strange, and like I said, just downright cool, and really has to be heard to be understood. Scratch that, it has to be heard to be believed. Don't believe me? Frownland and Ella Guru both do everything I just said. Really, Beefheart was the pioneer of a sound which has barely survived. This album also needs to be listed as a must-have for any record collector.
And Third Man Records again has handled an elegant reissue of this vinyl, which makes it a wonderful way to snag this album. And unless you didn't think this would be the definitive most respectful reissue of this durable classic, I'll quote the Third Man Copy here:
"Previous countless Trout Mask Replica repressings used scans of scans of scans of the cover image, but for the Third Man pressing, the original Cal Schenkel cover photo has been tracked down and reproduced here at its clearest — its resolution from the original release in 1969. If you've only ever seen a jpg online or fuzzy, smeared-looking CD issues from the 90's, be prepared to be wowed by the fully engaging spectrum this iconic image casts. This 2xLP is pressed on heavyweight 180-gram black vinyl for that full-on frenetic feeling."
Trout Mask Replica really needs to be heard to be believed. Get it here.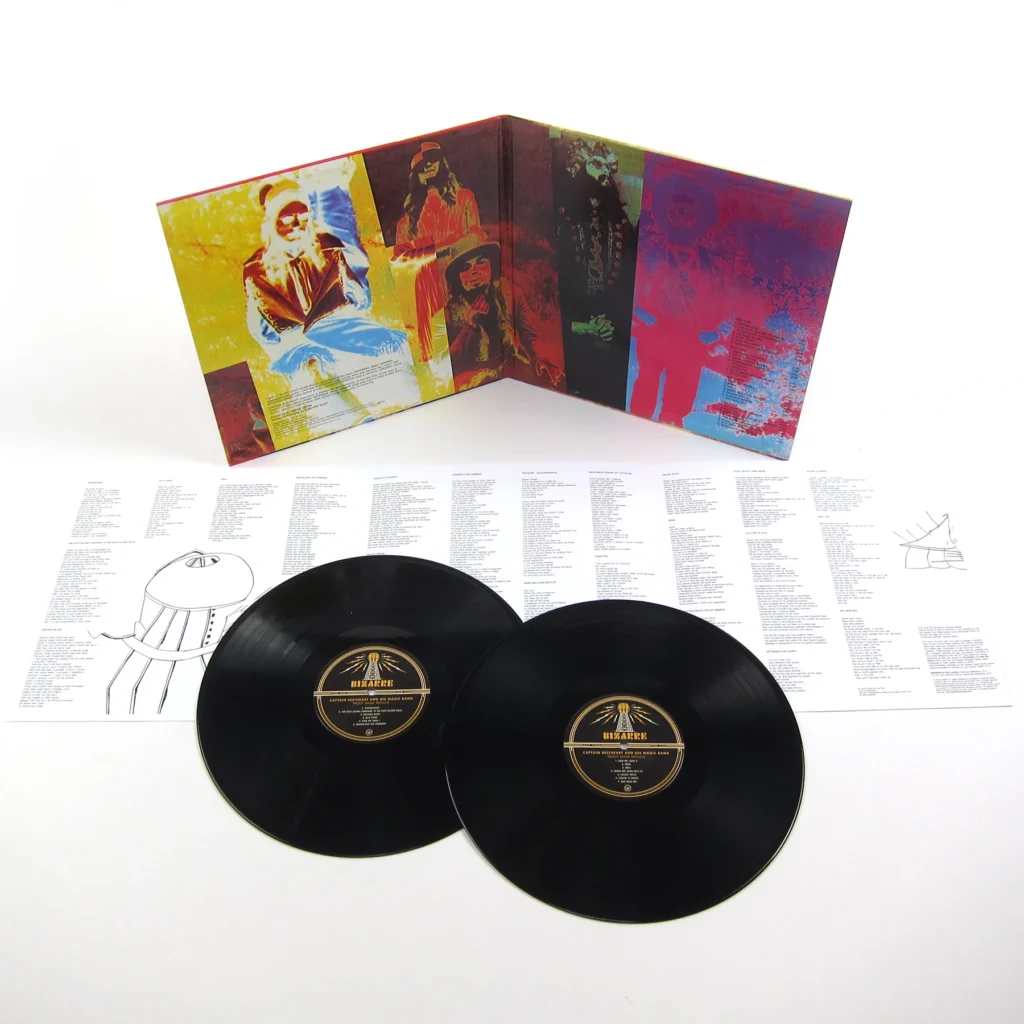 photos: turntablelab.com