Editor's note: There's spectacular power in a simple list. It's just so potentially affecting; there's no pomp, no ceremony, no nonsense — all the power is just what's there. That sense of power is what leapt to mind when Ground Control's own Aging Punk Murray Thomas presented his list of the best albums released in 2016 to me as nothing more than a list of ten titles and about a sentence in the way of description for each. It was captivating, in that regard — there was no bullshit, just what readers need to know, because all they need to do is buy the albums and listen. In hopes of keeping to that spirit, we're reprinting the list exactly as it was submitted to us: names, album titles and a brief description of the music because that is all readers need to know. So here's Murray's list reader, copy it down on a sheet of paper, head to your favorite record store and get your copies.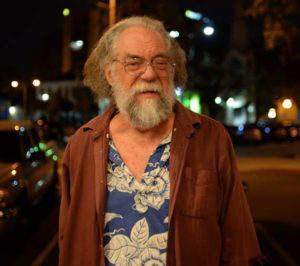 10. Giant Panda Guerilla Dub Squad – Make It Better – (self-released) – As the title implies, Giant Panda deliver an album of positive, "one love" reggae, without descending into cliches, either musical or lyrical.
9. Cheap Trick – Bang Zoom Crazy … Hello – (Big Machine Label Group) – Yes, Cheap Trick return with an amazingly strong, rocking album.
8. Ellyn and Robbie – Skywriting with Glitter – (self-released) – L.A. Poet Ellyn Maybe and her musical partner Robbie Fitzimons use a combination of surrealism and fantasy to dig deep into the reality of human society and existence.
7. The Rolling Stones – Blue and Lonesome – (Interscope/Universal) – The Stones return to their roots with an album of old blues tunes and reveal that they now have this music deep in their blood and bones.
6. Iggy Pop – Post Pop Depression – (Loma Vista) – Pop has a lot to be depressed about, with the passing of his good pal David Bowie, as well as, over the past few years, all of the original Stooges. He responds with an album which is appropriately dark, yet also a celebration of life.
5. Thee Comons – Loteria Tribal – (Burger Records) – Bet you didn't realize that what your music collection is missing is a cross between heavy dub reggae and cumbia. One listen to this album, and you'll see that it's true.
4. Leonard Cohen – You Want It Darker– (Columbia/Sony Music) – Deathbed albums seems to be the new trend. Cohen gives a powerful example here. Of course, death was never far from his mind, or at least his lyrics, even when he was much younger, but it feels even closer on this album.
3. Feels – S/T – (Telepathic Arts) – I just love noisy guitar rock. Especially when the band is fronted by three talented women. Poppy tunes with lots of fuzz around the edges.
2. Emily Wells – Promise – (Thesis and Instinct) – Wells is a master of violin, vocals, and the processing of both. Promise is effectively a symphony; the eleven songs are movements of that symphony, united by musical and lyrical themes. Subtle but powerful, this album demands multiple close listenings.
1. David Bowie – Blackstar – (ISO/Columbia/Sony Music) – The ultimate "I'm about to die" album. Bowie closes out his career with his strongest album since [your choice of his best album of the last two decades]. Released on his birthday, just two days before his passing, this was a great album even before we understood what it was all about.
Bonus.  Instagon – Clutter – This is a bonus selection because it admittedly has a limited audience. If you're looking for easy on the ears pop, or even basic rock'n'roll, this is not for you. The first real studio album by my favorite improv/noise band takes live recordings and mixes them with sound effects for a fascinating sonic experience.