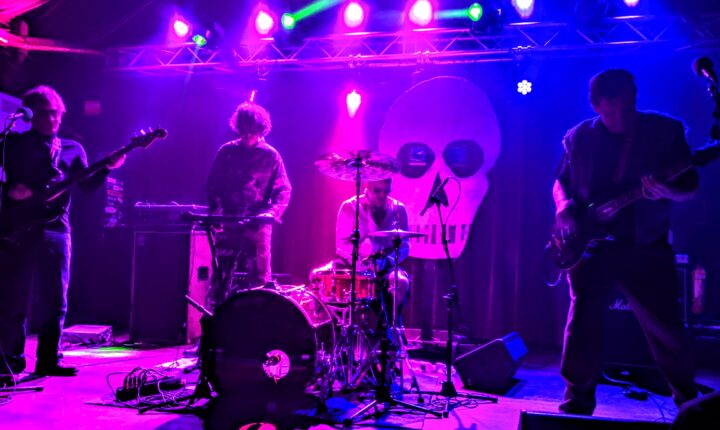 The Spits @ Brighton Music Hall, Boston, MA [02-22-22]
Wednesday, 23 February 2022
LIVE MUSIC
If you're a punk rock fan and you don't know the Spits, then I pity you. You need to get on that. You need to get on the mystery that is the Spits. Their entire existence is a big ol' question mark. You want to define their music? It's lo-fi garage punk rock, both futuristic but hopelessly old fashioned. Kind of like futuristic for the 50s. Imagine big robots which are actually just spray painted carboard boxes. And who are the Spits? They're dudes from Michigan who have adopted the doomsday prepper aesthetic, until they don't. They wear aviator glasses, wear trench coats or military garb. What? Don't ask. It makes no sense. Like I said, they're a mystery. The only thing that isn't a mystery is their music. It's short and sweet catchy lo-fi garage punk. If you don't appreciate it, I don't think we can be friends.
Would I be prepared to uncover the secrets of the Spits? How could I not?
The Spits are currently on tour, and aggressively so. This was a long time coming, and luckily, we were spared a Covid cancellation. Opening for them on the these dates are Dark Thoughts – a straightforward, but excellent, pop punk band from Philly. But of course, the true mystery was the Spits. What form would they take in Boston on a rainy Tuesday night?
The band set up front and center, with their own strobe lightshow (preventing us from getting a good look at them), wearing their shades (even more), and donning what I can only describe as dystopian future chic. One thing I was anxious for was the massive sound that would come from a Spits live show and I certainly got that. Their records sound limited (in a perfect way), but the live sound is MASSIVE. The band pounded through 20 of their hits (all their songs are hits) in surprisingly tight and comprehensive set list that lasted around 40 minutes. Perfect. They kept threatening to end their set ("this is out last song!") but instead rocked their entire catalog, from new tunes like Up All Night to old classics like Witch Hunt. It only took a couple songs for the mutants to turn up in the pit and get things rowdy. And rowdy they got. If you can't stand the heat, get out of the kitchen. And the heat manifested itself for me in the form of my glasses getting knocked out halfway through the set by the rowdy fist-pumpers and moshpit (there was PIT) participants . I had to move to the sidelines and squint for the rest of the set, half-concerned that my glasses were now being destroyed, and half trying to appreciate that the blur was now further adding to the mystery of the band. Was this fate?
I can only imagine what an unexperienced person would think of the Spits live, but as a fan, it elevated the them to a much higher level. I would think this is a perfect basement band, but am glad they could basically fill out a larger venue. The dream of rock and roll is alive. Live it live, and go see the Spits. It's a circus!