RICOH THETA S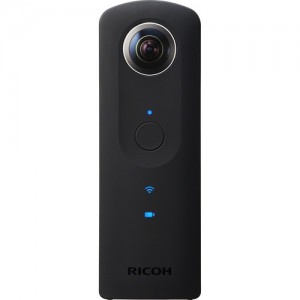 The Ricoh Theta S is a one-click device that creates flawless, high resolution 360 degree images, wow! I've never owned a camera like this before. I never imagined that there would be a camera that can do the things this one does. I'm just a photography enthusiast/hobbyist but I enjoy creating imagery that is unusual and eye catching. The potential that this camera has to easily create extremely eye catching images is phenomenal. One of the alluring points for me was that I enjoyed the process of creating Photospheres with my Android phone. The process on an Android phone is tedious (50-60 single exposures would be auto-stitched) and did not always create seamless results. Now, with the Ricoh Theta S, just one click of the shutter creates a perfect 360 degree Photosphere. Once the images are transferred to your phone, you can pinch and zoom (and spin) them, which is pretty much the coolest thing I've ever done photographically on my smartphone.
I also chose to purchase a selfie-stick to attach the camera to (instead of a tripod) – which works much better for scenic and architectural captures than close up images of people might work.  With the selfie-stick I am able to extend the camera far enough away from myself at the center, pivotal position in each photo. If I were to try to trigger the camera remotely on a tripod, I don't know if I'd be able to get far enough out of the picture frame and still have a strong enough wi-fi signal to reach the camera from my phone.
One thing I have issue with is the quality of the video the camera shoots after you convert it for YouTube display. It shoots in 1080P and looks great straight out of the camera, but the videos I've used Ricoh's conversion software with results in rather low resolution output. I asked Ricoh tech support about this and they claim it has to do with YouTube display bandwidth. I read someone else's review that pointed out that Kodak will soon be coming out with a 4K capable 360 degree camera, and that it should as a result produce better quality video.
I'm glad I bought this one now. In fact, I ordered mine the day that Amazon announced that it was for sale. I don't mind that it doesn't have a replaceable battery or extended memory storage. It's easy enough to recharge in the field and images are easily transferrable to my smartphone. There are a couple of third party Android apps that offer options for creatively editing your images and sharing your results to your favorite social networks.
What I would really like to do to test out it's capabilities is take some photos with it at an outdoor music festival – to be standing at the edge of a stage with the camera on the selfie stick extended to full length capturing the crowd behind me and the performers on stage in front of me. This is why I feel this is a valid review to post here on our music blog. Hopefully I'll be shooting such concert imagery to share with you soon.
Feel free to start a conversation with us in the comments section below. We've just redesigned our website and we'd love to talk to you and hear your thoughts about our reviews. Let us know if you're thinking about buying one of these cameras, or if you already have one, let us know what you like/dislike about it.
Ricoh supplies an online gallery of sample images but check out Twitter, Google Plus, and Flickr for user created images.
Buy one from Amazon, B&H Photo/Video or Ricoh for $349 (mfg list price)
Watch USA Today's video review/demonstration
SPECIFICATIONS
Record 360° Spherical Photos/Videos

2 x 12MP 1/2.3″ Sensors, 14.4MP Output

Twin Lens System, f/2 Maximum Aperture

Full HD 1080p Video Recording at 30 fps

Live Streaming via USB or HDMI

Auto, Shutter Speed & ISO Priority Modes

ISO 1600 & Manual Exposure up to 1 Min.

Built-In Wi-Fi for Live View and Control

8GB Internal Memory

Google Maps/Street View Compatible
Unique twin lens design incorporates lenses on the front and back of the camera to enable full 360° spherical imagery to be recorded with each exposure. Each lens has a maximum aperture of f/2 to benefit working in low-light conditions, and each lens has a fixed focus range of 3.9″ to infinity to render nearly all subjects in focus.
Dual 12MP 1/2.3″ image sensors provide an interpolated 14.4MP output in order to produce stills with a 5376 x 2699 equirectangular resolution.
Full HD movie recording is supported at 1080p30 (16 Mbps), as well as HD 720p15 (6 Mbps), and live streaming is possible via the HDMI type-D or micro USB connections at 1080p30, 720p30, 720p15, or 480p30 frame rates. When saving video to the internal 8GB memory, up to 25 minute clips or 4GB of video can be recorded at a time.
Auto, Shutter Priority, and ISO Priority exposure modes are available for stills shooting, and auto exposure mode is available for video recording or live streaming.
A sensitivity range of ISO 100-1600 is available for all recording modes to benefit working in a variety of lighting conditions.
When shooting stills, shutters speeds ranging from 1/6400 sec. to 1 minute are possible. Speeds up to 1/8000 sec. are possible in video modes.
Built-in Wi-Fi allows you to connect to a mobile device or tablet in order to gain a live view image, adjust camera settings, and wirelessly transfer stills and video for instant sharing online.
Spherical imagery can be uploaded to the Theta 360 website and shared to Facebook, Twitter, and Tumblr or posted to Google Maps, Google+, and YouTube. The Theta S employs the Google-supported Open Spherical Camera API for full compatibility with Google services, including the ability to publish your photo spheres on the Google Street View app for others to explore.
Integrated lithium-ion battery offers approximately 260 shots per charge, and it can be charged via the included USB cable.
Internal 8GB memory can store approximately 1600 full-resolution stills or up to approximately 65 minutes of 1080p video.