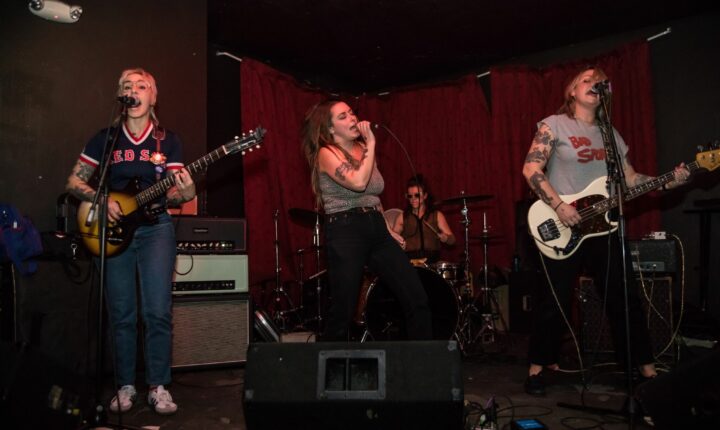 Pale Lips Live @ O'Brien's Allston, MA 10-26-19
Thursday, 31 October 2019
LIVE MUSIC
The Pale Lips should be the biggest thing in punk rock right now. There's absolutely so much to love about them: they bring the riffs, they've got the melodies, their songs are catchy, they sing about the things we care about (like romance and the spooky stuff) and everything about them sounds fun. They're one of those bands that you feel glad you discovered and can't wait to tell people about. I know for me, with it being Halloween and all, I haven't been able to stop playing I'm a Witch from their album After Dark all October long. Adding to the mystery is that these ladies are from the great white north: Montreal Canada. No one knows what goes on up there. Well, maybe Bloodshot Bill does.
But this is a big year for Pale Lips as they've decided to cross the border into their first ever USA tour. Starting in Winooski Vermont (a town I associate with some of the best coffee I've had in my life), it was just our luck that the band would be playing the perfect venue that would get their flavor of punk rock and roll: O' Brien's in Allston. Of course Ryan Agate is to blame to this, because who else would know that a band like this is a privilege to break in for the masses, on a Halloween weekend of all nights!
As I said, O' Brien's is the perfect place for the Pale Lips and they seem to fit in just right with the atmosphere. Did the ladies bring the rock and enjoyed every minute of it? Oh yes. Did we as an audience dig what was being served? You bet. The Pale Lips proceeded to play a nice collection of songs ranging from their debut Wanna Be Bad (like You Make me Wanna Be Bad, and Mary Lou Sniffin' Glue), their single Should've Known Better, and their latest album After Dark (Some Sort of Rock N Roll, Hanky Panky Franky and I'm a Witch). With the slight technical difficulties (that quickly got resolved), it was a dark, sweaty, energetic, and delightful evening of punk rock.
It's truly special to be subject to the USA's first taste of the Pale Lips live. You better catch them while they're still out there. This band is bound to be playing larger and larger rooms in the year to come until they take over the world.
Photo by Richard Cramer