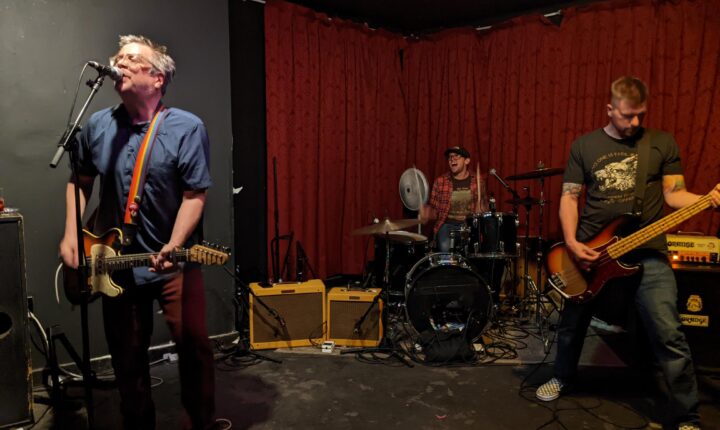 Jon Snodgrass & Buddies Live @ O'Briens Pub, Boston, MA [05-18-22]
Friday, 20 May 2022
LIVE MUSIC
I've been a fan of Jon Snodgrass for over 20 years and have never seen him live. Embarrassing, I know. Especially considering how much I owe the man. Armchair Martian is such a no-brainer for anyone into pop punk, especially the Descendents/ALL/Fat Wreck variety, and I was hooked from the beginning (hey, when's a new album coming out?), but I didn't think country music could be cool until I heard his band Drag the River with ALL frontman Chad Price (hey, when's a new album coming out?). Granted, Drag the River are mostly a rock band with some heavy folk and country leanings, but their songs are instantly accessible to anyone into punk rock who doesn't mind the occasional slide guitar. And that gap is a big one to bridge, because if you're into Drag the River, a whole new world of great music opens up to you. Thank you, Jon Snodgrass.
But while his bands are on hiatus, the man has his own super project Jon Snodgrass & Buddies, whose debut was one of our favorite records of 2020 (hey, a new album IS coming out soon!). Tace, as the album is called, is a heavy rocker loaded with hooks that will leave you wanting more as soon as it's over. It's cool to think how Snodgrass makes his songs his own with his trademark (?) drawl. I was excited to hear these songs live and I got my wish at one of the best venues in Boston right now O' Briens pub. How good it was to be back there after so many years. I wish the turnout was bigger, but it was pretty respectable for a weekday crowd, who hung out with the band having drinks all night.
The live lineup of the Buddies includes Jeremy Bergo and the magnificent and prolific Mikey Erg on drums, and believe it or not, this was only their second time every playing together. And, shit was TIGHT! Though the setlist was short, Snodgrass & Buddies treated us to the most of the cuts off of the Tace album, and added some covers from Descendents, ALL, and Mikey Erg's solo EP to the mix. The vibe was comical and friendly as Snodgrass relegated the crowd with funny tales and charming backstories to accompany the songs.  A nicer set a guys playing a greater set of songs you'll never find.  And I wish all my friends could be there with me, it was such a friendly and rocking affair. Snodgrass is still on the road and you should check him out. Support the man! Buy a shirt!
See what he's up to here.