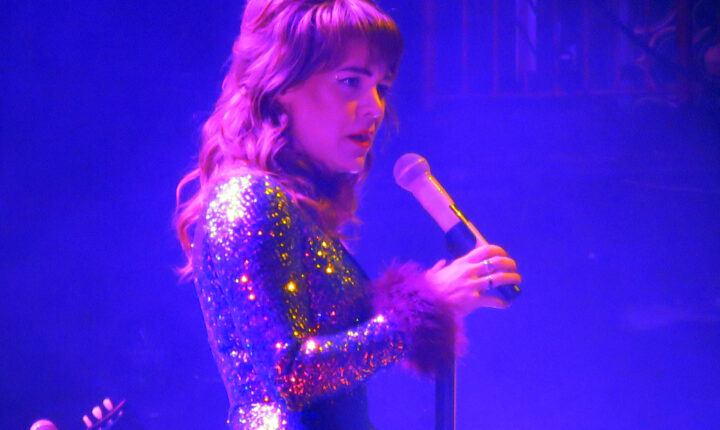 Jenny Lewis Live @ House of Blues [BOSTON, MA] 10-25-19
Saturday, 26 October 2019
LIVE MUSIC
I often admit to being late to the game with a lot of bands, but I think I got into Jenny Lewis at just the right time. I had often been exposed to her whenever my wife controls the music on long drives, and I had found that it varied from powerful to uninterestingly derivative. My wife, being a huge fan, wasn't going to miss out on a performance when Jenny Lewis came to town, and seeing that her new album was getting a lot of acclaim, I reluctantly agreed. After all, I've dragged her to many stinky and sweaty punk rock bar shows.
I found myself pleasantly surprised listening to her new album On the Line. The songs were just really powerful rock songs and ballads. With the theme of heartbreak, On the Line seems to take an interesting arc both of mourning loves lost and staying positive about the future. And it doesn't sound like something else, per se. It sounds like a fully realized artist. Maybe I had missed something with Jenny Lewis? A casual revisiting of her past catalog shows that not being the case. Maybe On the Line was what spoke to me, and on additional listens, it shot up my list of favorite albums of the year. It's an record that's incredibly accessible and very powerful.
So as the weeks passed I was getting quite excited about seeing Jenny Lewis live. She seems like an "old time" performer presenting herself as a true frontperson in her band. The look is fully realized live with her backing band looking spiffy in their plain black suits and Lewis looking like a country lounge singer from the 70s, donning a skintight bedazzled dress and a bouffant to boost. It looked absolutely phenomenal. And of course, Jenny Lewis and her band are nothing if not professionals, playing songs from the entire Lewis catalog with the occasional Rilo Kiley song thrown in. Of course I was there for the new stuff and she delivered, playing almost every cut from On the Line and bringing great energy to the songs. Lewis is a performer who truly seems to love what she does, meticulously singing, dancing, gesturing and engaging the crowd, who was unabashedly eating it up. It was hard to decide who exactly was having the better time. And in case you didn't think people were there to party, we got a balloon drop halfway through the show, much to the delight of everyone involved.
So Jenny Lewis and her band put on a show in the truest sense of the word and maybe in a way that you don't see that often anymore: with visuals that draw in the crowd and elevate the songs. I already said that On the Line is one of my favorite albums of the year, and now Jenny Lewis has also put one on of my favorite shows.