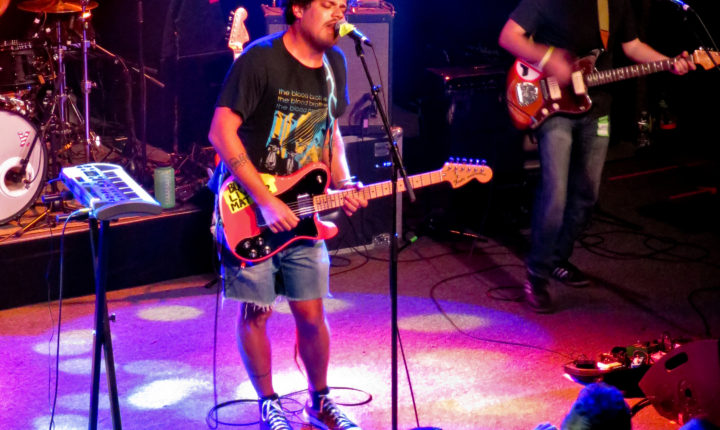 Jeff Rosenstock @ Sinclair (Cambridge, MA) 11-15-16
Wednesday, 16 November 2016
LIVE MUSIC
I can't remember the last time I saw a mosh pit at a show. And it's not because I'm old or anything (although by punk standards I'm ancient), because I go to shows all the time. It must be the way things go in Boston because I've seen my fair share of "No Moshing" signs since moving to the city. I've almost begun to think they were a thing of past, until I saw Jeff Rosenstock at the Sinclair, because there, in all its glory, from the balcony seats, I could see one of the biggest pits I've seen in a long time. Boy am I glad I avoid the floor. Fun is most definitely in the air.
The Jeff Rosenstock show was going to be a special one and everyone knew it. It's been a week since the elections and the man has definitely been vocal about where he stands on political issues. I even saw him play on Chris Gethard's election extravaganza last week. This performance was much more subdued but maybe not as classy as his "Eat More Butts" number years ago.
After a pretty long speech to the crowd about getting involved and organizing (his new album is fittingly titled Worry), the man with the guitar in his hand proceeded to blister his way through a majority of the new songs and several favorites from his previous We Cool album. Lighting fast and tight as shit. The thing about Jeff Rosenstock songs is that they can get pretty complicated and all over the place. The thing about Jeff Rosenstock albums is that they're loud loud LOUD. These factors more than contributed to what a mind-blowing set this band had, perfectly reproducing the energy found on record. And let's talk about charisma because this band definitely has it. The crowd was basically eating out of their hand as they jumped, danced, and stage dived (I stopped counting at 10).
This is what it looks like when all the gears are turning and everyone is on board.
Jeff Rosenstock might have just performed the best show I've seen all year, which is saying something. Don't believe me? Well, see for yourself. The man is on the road and refuses to slow down.