Hoooo boy! It's that time of year again! We just spent a grueling weekend with our families for Thanksgiving, seeing people we would rather avoid, commuting in a hellscape, and realizing that the pit of small talk is bottomless. But now it's time to reorient ourselves and get ready for the Holiday season that actually matters. As always, we are featuring some old favorites, revisiting some previous companies, featuring new ones, and coming out of left field on one or two occasions. These are products that we love and think any reader of this website will appreciate.
And remember, most importantly, this is the season where our good deeds also deserve rewarding. So get yourself something nice as well. Now, on with the show!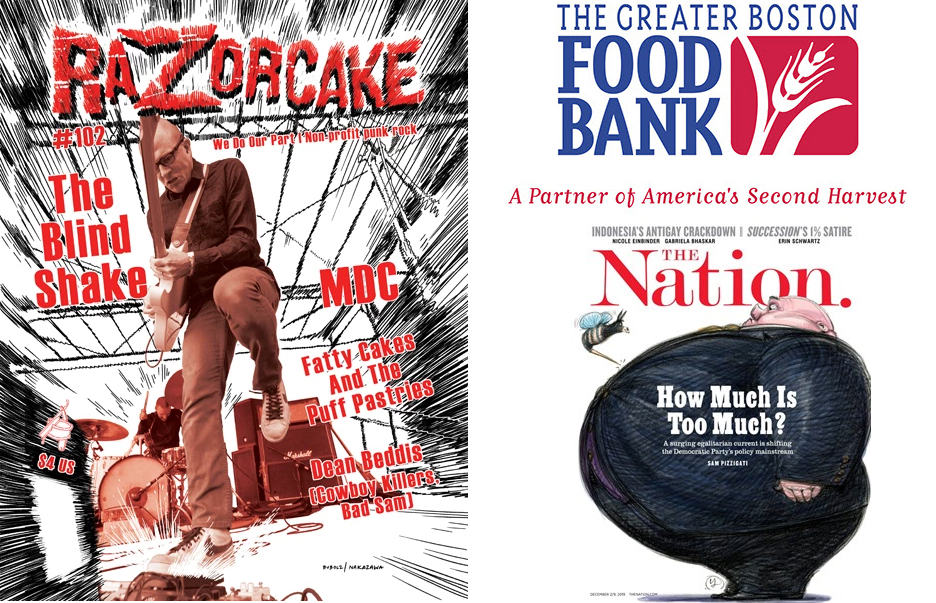 Donations & Subscriptions
We start off every year with magazine subscriptions because now more than ever it's important to invest in some good old fashioned journalism or to just donate to some charitable causes. You can buy nice things for your ears, body or eyes, but what about your mind? It needs food too, and the very nutritious kind.These are just some of the outstanding publications which have proven tried and true to their cause. You can't go wrong with them.
The Nation is the bees knees when it comes to news, and are loaded with worthwhile and helpful pieces that serve to empower and enlighten. As far as music is concerned, Razorcake is just about the best damn music zine out there and a great place to find out what all the cool new bands are (they're not better than Ground Control, of course!).
Finally, there are plenty of charities and organizations that need your help this year. You can do so on a local level like your local food bank, or more international organizations like the NRDC which is geared towards climate change reform. There are just a few ideas. Your money will be well spent in any of these places.
Links: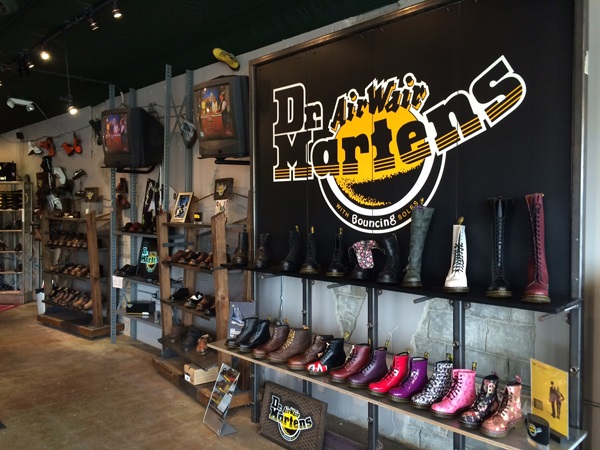 Dr Martens
There's a reason why we keep featuring Dr Martens on our guide. There are so many companies making flimsy fall-apart shoes these days that the actual craftsmanship doesn't get appreciated. Dr Martens has been heavy duty and heavy in style for more than 50 years and doesn't let up. In fact, I bet if you bought a pair when they were first produced, you'd still have that pair nice and functional today.
A pair of Dr Martens boots is an absolute essential item for any wardrobe. So don't even think twice about getting a pair in the slew of new styles they keep offering. Personally, I stick to the old school stuff, and as far as boots are concerned, the classic 1460 is the keystone for all boots. It's equally stylish and comfortable in regular or vegan variety. That classic look never goes out of style.
But once you've gotten your boots, check out their regular shoe catalog for some fancy casual or formal low top shoes that won't break the bank. The Chelsea boot is what you're going to need for easy access when you're groggy and getting ready in the morning. No matter what you pick, you can rest assured that it's going to be comfortable and stylish and that you're going to be coming back for more. Few things in life are as essential as Dr Martens.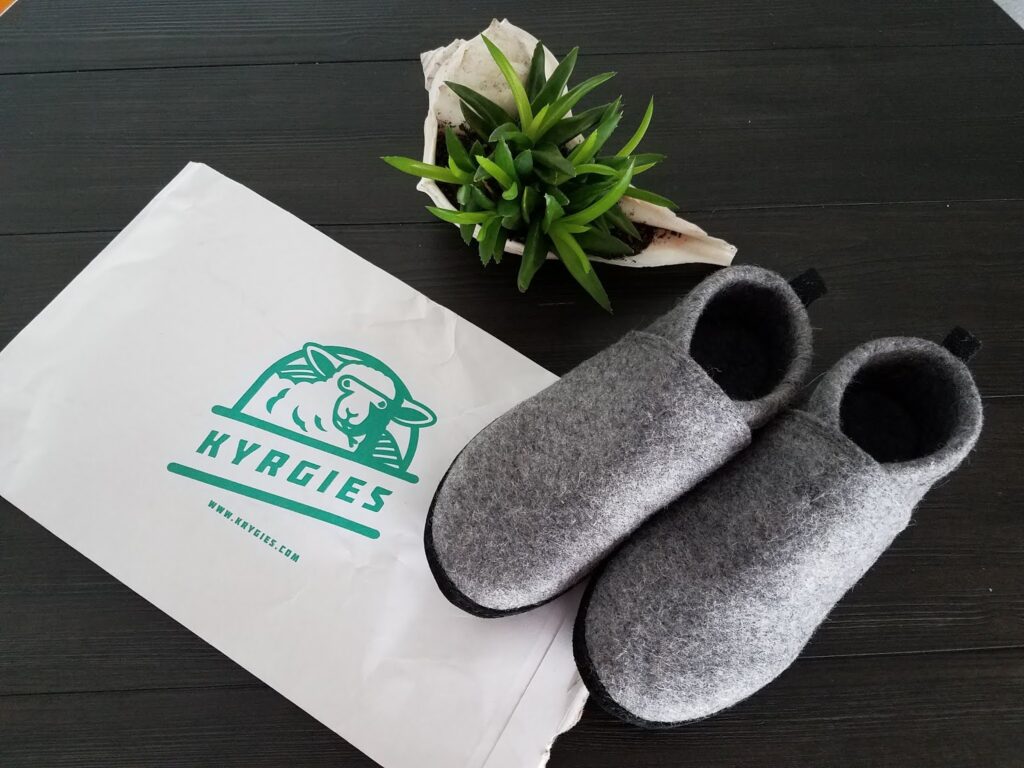 Kyrgies
I find as I get older that a good pair of house shoes are as essential as outdoor shoes. I've spent many years looking for the perfect pair and I finally found them with Kyrgies. First, let's talk about why investing in Kyrgies is a good thing. Well, they're called Kyrgies because they're made from Kyrgyzstani wool. They support the local communities, they are handmade from a women's art collective, they cut out the middleman and inflated prices and sell the products directly to you, they partner with factories that support a living wage for their employees, they focus on minimalist packaging to be for eco-friendly, and they donate their sales to environmental causes. Do I need to go on?
The other reason to love Kyrgies is that they are just a damn comfortable shoes that you'll soon forget you're wearing. Personally I like to keep my bedroom nice and cold but that means that in the morning I have to reckon with that cold hardwood floor. But never fear, because my Kyrgies are right there waiting for me and keeping my feet nice and cozy while I get ready in the morning, listening to the Best Show while making my coffee.
And Kyrgies are perfect for lounging around the house, a quick step outdoors to fire up the grill or clean up the patio, and right back inside. They're going to be like a second skin. Comfort and a good cause. That's what Kyrgies are all about!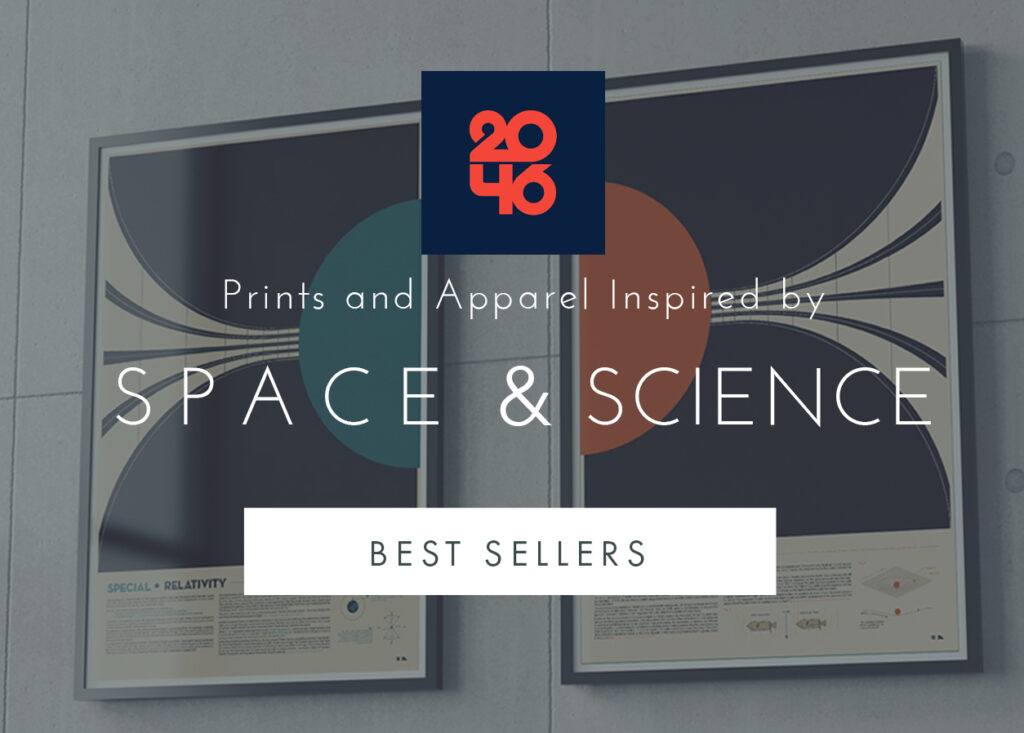 2046 Print Shop
I knew the second I looked through 2046 Print Shop's catalog that I was in love. As a scientist, I tend to prefer the practical over the aesthetically pleasing. There are so many air plants a house can hold, where a shoe rack should go anyway. And there's no reason we need $50 porcelain measuring cups when the ones from the dollar store will do just fine. I can appreciate a beautiful home, but you have to draw the line somewhere.
2046 Print Shop is so good at what they do because they've found the beauty in science. It's either their presentation, the science they're depicting, or the style in which they're showing data. It's all science inspired stuff. I don't know what it is, but it all looks so beautiful. 2046 is helping us appreciate the science that makes our life so great. They have affordable, numbered and signed screened prints on molecular biology, physics, string theory, ecology, chemistry, or space travel. All of if wonderfully designed, and presented in a beautiful and compelling way. These prints work in the living room, the hallway, the bedroom, or even the bathroom. And they've even managed to make them look different, yet matching, if you present them next to each other.
They also have some select T Shirt designs, actual screen print, none of that desktop bullshit, for the music lover in your life. Their design depicting the planets on a record's grooves are just so cool. Most surprisingly, 2046 Print Shop has designs that both myself and my manic pixie waifu really enjoy. I dare you to get on their website and not find 10 designs you want to see up close on your wall.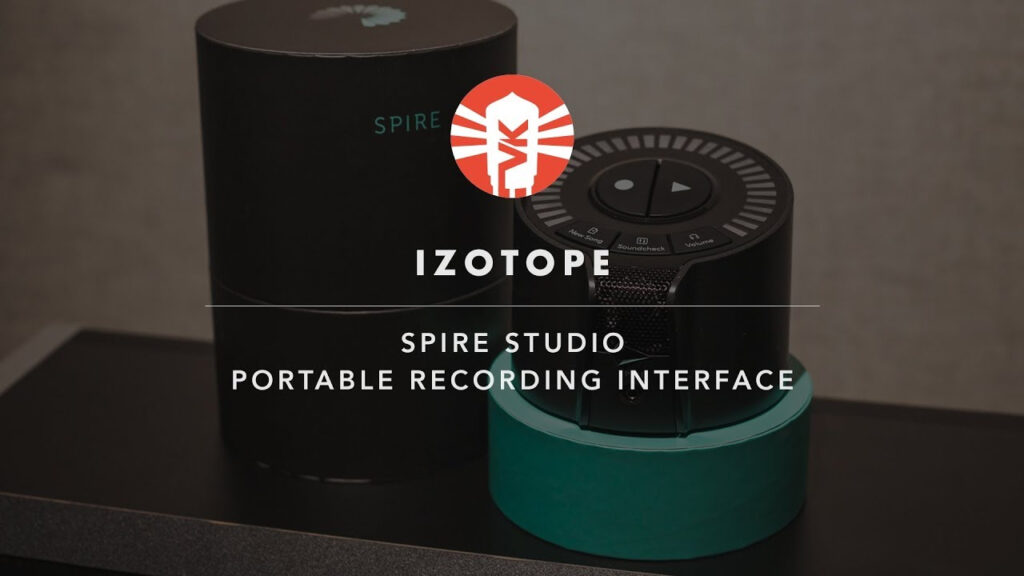 Spire by Izotope
We all know what it's like to have a great idea only to forget about it moments later. When that idea comes to you, you feel so consumed and excited by it, and the depression that sets in when you can't recollect it is tragic to say the least. Sure you can write down your thoughts, but what about songs and melodies. What if you feel a moment of inspiration and you can't capture it? For a musician it's an absolute nightmare.
I used to record song ideas on my phone. If I was lucky enough to have a guitar around, I would try to get some chords down to go with it. But what if you want to take things to the next level? That's where the Izotope Spire Studio comes in. This portable lightweight device is basically a recording studio on the go. It has a built-in omnidirectional microphone and a pair of Grace Design preamps with phantom power so you can capture a hi-def sound wherever you are. But you can also connect another mic, or an instrument into its XLR inputs.Connected to your phone or tablet, the Spire Studio is a versatile hardware iOS/Android interface/recording system that communicates wirelessly. Setting things up is so easy too, because you just set your levels automatically with the Soundcheck feature, hit a button, and you're recording. You can record up to eight tracks (two simultaneously), then edit and mix your song straight from your iPhone, iPad, or Android device. Then, you can export your mixdown files for further editing. So, basically, the Spire is a portable mic and mixer all in one. Just imagine the kind of sound you'll be capturing with this device.
So, now you don't have to forget your great song ideas. Instead of putting down a rough cut, now you can actually demo it on the go. This is some powerful stuff!
https://www.izotope.com/en/products/spire-studio.html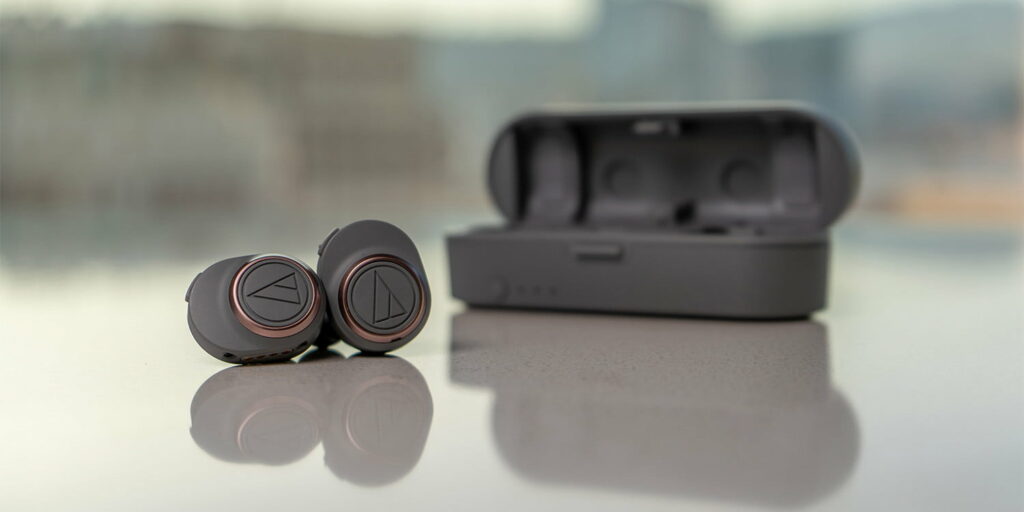 Audio Technica
My relationship with Audio Technica has been a great one from the very beginning. Since I started taking music recording seriously, no microphone has served me better than Audio Technica. I've recorded entire songs using a single Audio Technica condenser mic and these songs are still probably my favorite. The reason is of course that AT mics are very versatile and have the tendency to pick up exactly what you want. I tend to lean more towards a garage sound with my music and their condenser mics are perfect whether you want to pick up a room's resonance, as an overhead for drums, or if you want to pick up the intricacies of a more delicate sound like acoustic guitar. And as for vocals, forget about it, you'd be hard-pressed to find a better mic.
As an old guy, I always leaned towards analog mics with an XLR jack, so let's talk about that. Even though AT makes the best USB mic in the biz, they're XLR mics are really the gold standard. And their AT2021 is the perfect answer to that OTHER mic everyone uses on their snares. It gives you that clean, reliable, quiet pickup at a low price.
But, you know AT does more than just mics. It only makes sense that they've gotten into the wireless earbuds business as well and the ATH-CKS5TW give you that great AT sound for at an affordable price. Most shocking of all, they stay in! Chalk that up to good engineering.
The fact is, you're not serious about audio until you have Audio Technica.
https://www.audio-technica.com/cms/site/23d92df47b306cf5/index.html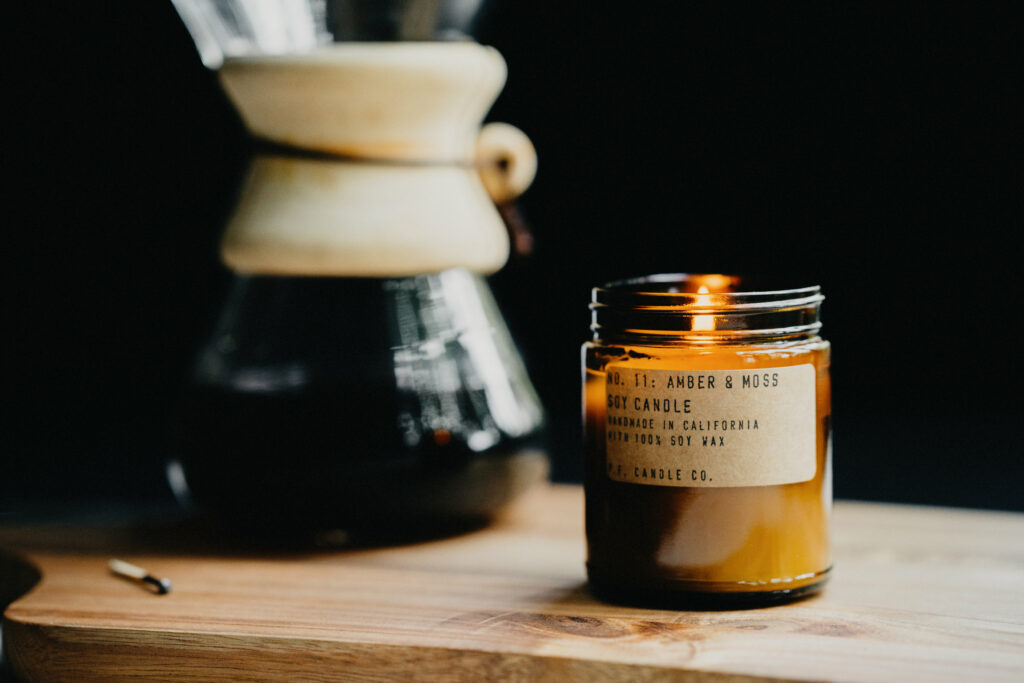 PF Candle Company
Here in New England we're in for a rough winter. Already we've been hit with a blizzard and an ice storm. Really, why would you ever leave the house? It's just ice and cold and danger out there. Why would we be shoveling snow and breaking out backs when we can stay inside in our cozy living room? Just turn on the fireplace (or play one on your TV), curl up with a book, a nice hot cup of coffee, and light up a candle to set the mood.
I've always defaulted to whatever cheap thing I found at my local grocery store. But lately, I've been upping my candle game and at the top of the list is PF Candle Company. Instead of relying on awful, gimmicky scents, PF Candle Company seem to understand that your house shouldn't smell like a kid's birthday party. No, you won't find any cake, bubble gum or candy scented stuff here. Honestly, what is that? PF Candle is more into the scents you actually want to have in your home, like Black Fig, Sweetgrass, Sandalwood, and Lavender. The candle burn soft and last longer than you would imagine. Really impressive considering that they're so modestly priced.And the packaging it so nice as well. PF Candle Company's candles almost look like a clay planter or glass of bourbon on your end table, ready to be enjoyed at sunset. Honestly, this is some classy stuff.
So you know that person in your life who loves candles and will go bonkers when you get them a new candle in their life. Well now is your chance to make them happy and not break the bank. And you know you're going to get some extra for yourself, right? Yes, you do.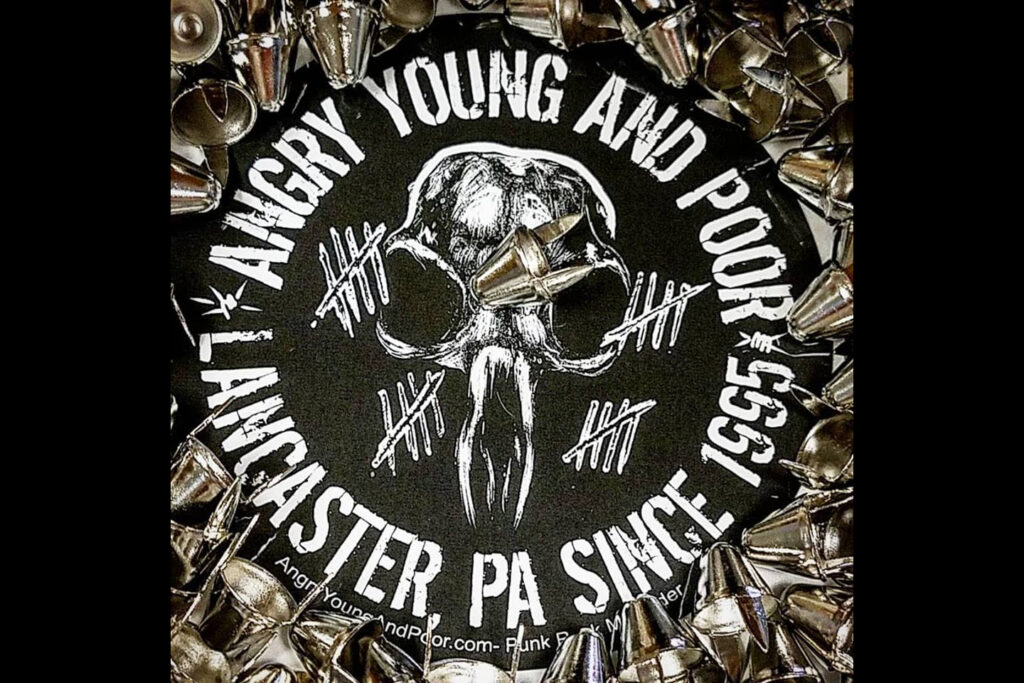 Angry Young and Poor
Living in central Pennsylvania for 6 years, I didn't have a lot of cultural outlets. Sure, I was 2 hours away from Philly and certainly went there to see a lot of shows, but I felt a bit claustrophobic until I discovered the Mecca that was Lancaster. Only 30 minutes away, I spent many a night going to the Chameleon Club to check out shows and meet bands. And a punk in Lancaster is going to find out about Angry Young and Poor sooner or later.
Angry Young and Poor is probably the go-to store for all your punk needs. Myself I would spend many hours browsing the aisles, looking and shirts and pants and looking through record shelves. And they truly have it all: band shirts (do yourself a favor and buy them from a reputable store for once), jackets, pants, socks, shoes, underwear, wristbands, belts etc. etc. Basically, anything a punk would want in their wardrobe and super reasonably priced. I shopped there often and still proudly own and sport these accessories many years later, now living in Massachusetts.
And one way that AYP recently raised the bar is by having their own custom-made leather jackets. A leather jacket is serious business folks, not to be taken lightly. It's something that should be contemplated, considered, and committed to. Once I finally decided to take the plunge, there was no doubt in my mind that I was going to get mine from AYP. Their Premium Leather jackets are where it's at for me. They're soft, comfortable, look the part, and come with a great red lining and that beautiful AYP patch on the inside. I only needed to wear mine once to know I'd never want to take it off. But I have a job, and the man keeps me down.
So stop being a poseur and treat yourself. Check out the Angry Young and Poor website and find the perfect gift for the punk in your life. Even if that punk is actually you.
https://www.angryyoungandpoor.com/store/pc/home.asp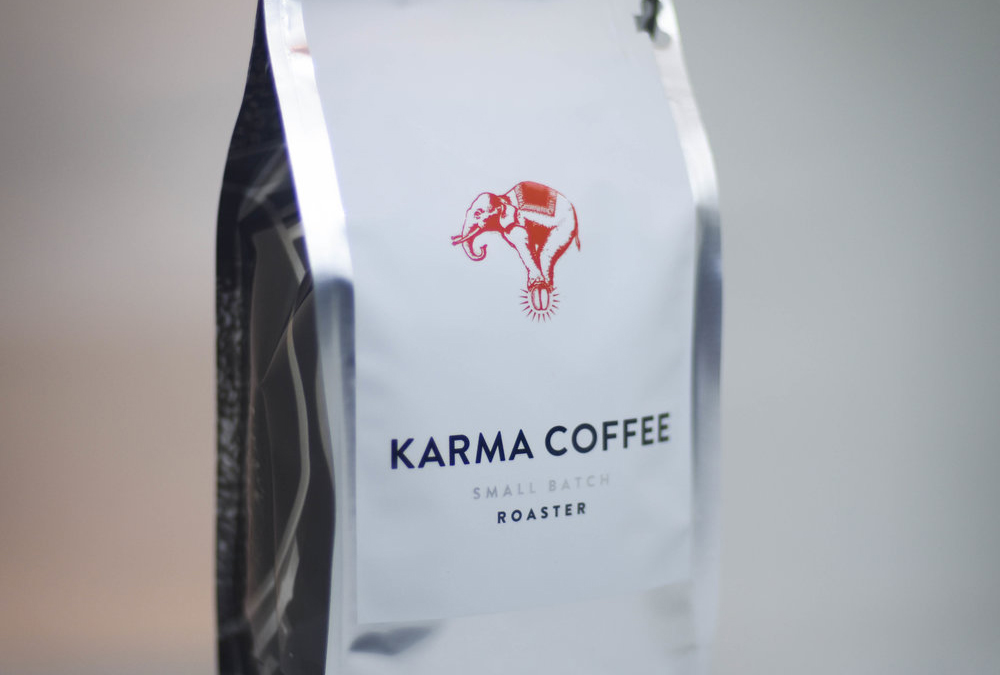 Karma Coffee
How are all the great coffee roasters so far from where the coffee is actually made? Truly, they would have no business operating from a place like Sudbury Massachusetts, right? Wrong! Karma Coffee Roasters does it because they know how to do a job well.
We love our coffee here at Ground Control and it's the purest source for energy to get you all those articles you need. Well, Karma is just about the best around and they're nice and local. They offer a wide variety of roasts, from a variety of sources, and roast them fresh when they send them to you, so you know you're getting top quality stuff. And don't think we didn't notice that Karma Coffee ships you slightly larger bags of coffee than those other competitors. Or at least that's what it looks like with their immaculately designed coffee bags.
And let me tell you, there is truly some bang in this coffee. We're dark roast fans over here and these guys do not disappoint. Their coffee is complex and full of flavor, and without all that bitterness that makes coffee undrinkable.
In those late nights studying you're going to need a guiding light showing you the way. Who else would you trust but the local boys at Karma Coffee! Their website is StirYourSoul for a reason.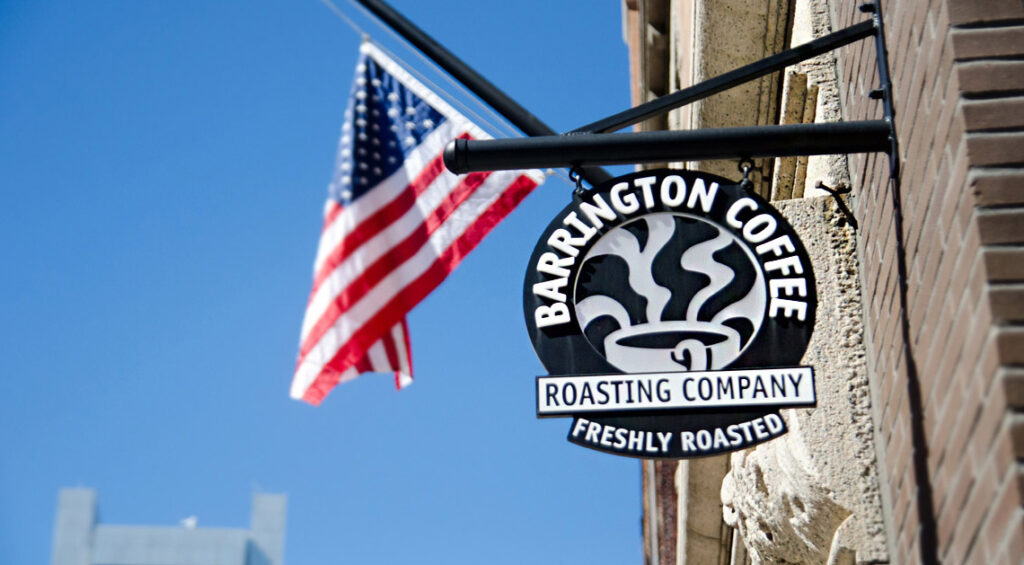 Barrington Coffee
You wouldn't think New England knows about roasting coffee, but they sure do. And people are starting to notice. If you look closely, you'll see that other coffee shops have started to carry their roasts as well, because as far as local stuff is concerned, it's hard to top Barrington.
Barrington coffee offers the kind of coffee that if you brew a bad cup it is completely your own fault, because they are the absolute best. I might be a bit biased too because I live in New England. Just browse their website and you'll see a very select variety of coffee ranging from roasts and origin and various notes. The reason is that Barrington knows what it means to roast a bean right. You can get your coffee whole bean or pre-ground, dark, medium, or light, you can get a bag or a tasting mix, and you can get your subscription which is all the rage these days.
And the coffee? Oh boy, it delivers on every front. I love mine hot or brewed cold for those hot summer days which are getting hotter every year.
For tasty, sustainable, affordable, direct and fair trade, get some of that tasty Barrington bean in your life. I have, and I refuse to live without it!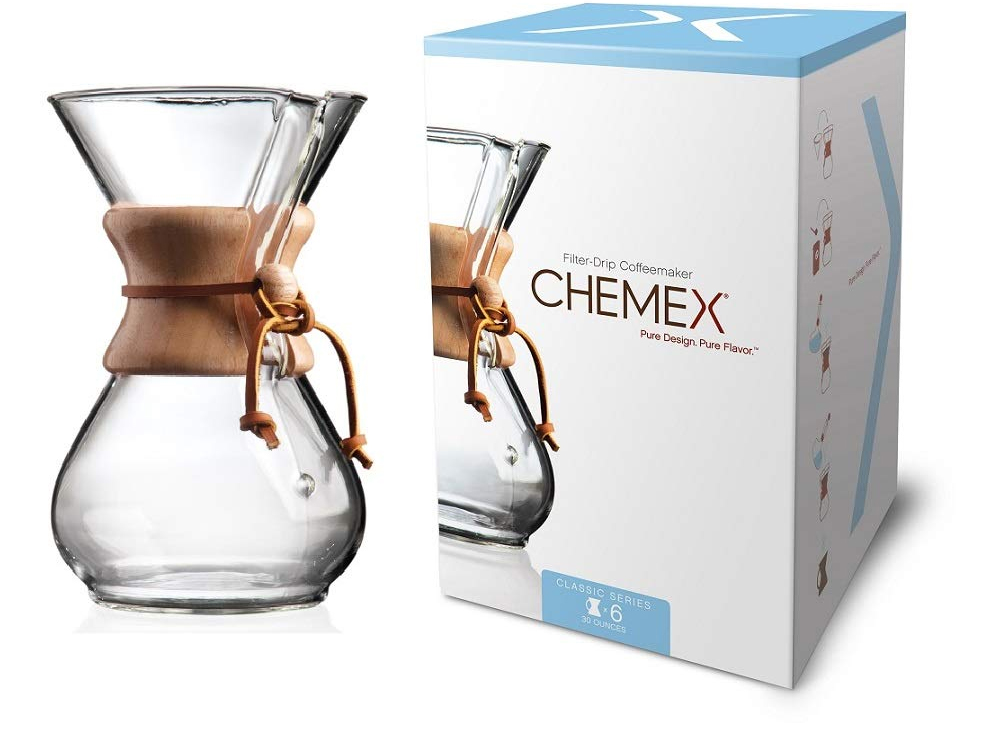 Chemex Coffee
Enough about coffee beans, what are you going to MAKE your coffee with? Well, there are a lot of choices out there, from your Mr.Coffee to your espresso. Personally, I tend to be careful with my roast purchase because there are very few companies out there that will make a dark roast that has low acidity. I have my favorites, but they're few and far in between. Really, nothing has a kick of bold flavor quite like a super dark roast with low acidity.
So if that's your jam, and it most CERTAINLY is ours, the only way to go is with a Chemex coffee maker. Let's walk through the basics. The way Chemex works is like a pourover. You grind your beans, you boil your water, you pour it over the and you watch your coffee get brewed. Its genius is it's simplicity. You don't need electricity, really, if that's how you wanna roll.
Somehow, like magic, the Chemex system is built to pull the flavor and leave all the acidity behind. That way, you can taste the flavor instead of the rust in your coffee. And the presentation? Chemex looks elegant and actually dresses up any kitchen. So you've got the best of both worlds here.
Taste your favorite coffee in a whole new way with a Chemex brewer.
https://www.chemexcoffeemaker.com/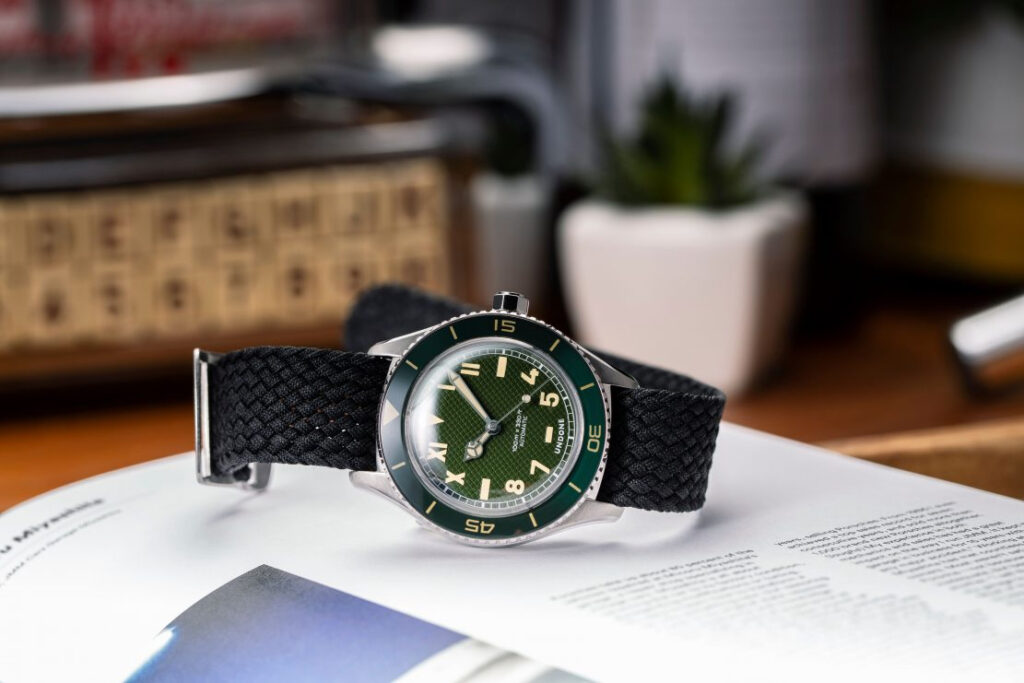 Undone Watches
I thought long ago that watches were a thing of the past. Just think about your daily life and how you're constantly surrounded by the time. In the office, on your phone, on your TV. So watches are obsolete, right? Wrong!
I never knew until I got a watch that I was in desperate need of one. I like to be punctual, and as a matter of fact, I'm super anal about it. I thought I would just look at my phone whenever I need to find the time, or my computer screen. Guess what? I don't work in front of a computer and my phone is in my pocket, so there's really nothing easier than carrying a watch and looking good while you're doing it. Even when I'm biking to work and I need to know how I'm doing on time, I'm not going to reach into my bag and check my phone! I already got hit by a truck once!
And you need to check out the badass watches they have at Undone Watches. I absolutely love them and they make a perfect gift for that special person in your life. We're not talking those big clunky sports watches, but sleek classic ones that actually help you dress up and not dress down. They have watches for every style and occasion and you can customize them to fit your needs. Personally, we gravitated towards the Basecamp Cali and didn't want to change a thing about it. Why mess with perfection?. Pick one up and see what we're talking about. You've been living a lie! Undone watches!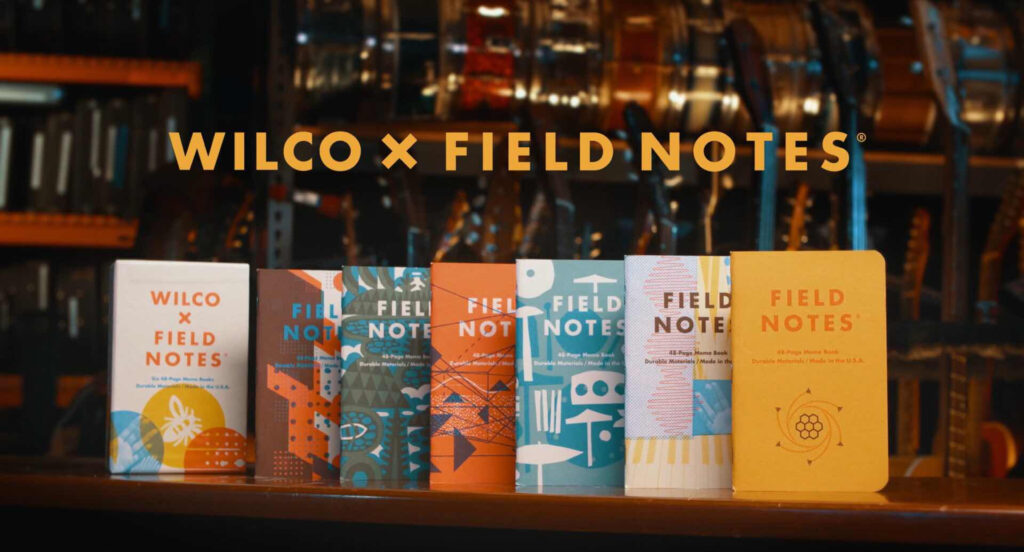 Field Notes
It's hard to think of a company that is considered more of a gold standard in notebooks than Field Notes. And for good reason. Field Notes has garnered a reputation for not just changing the way we collect our thoughts but making it look good in the process.
There is absolutely no reason in this day and age not to be using Field Notes books, pens, or pencils even. If you've got clammy hands like I do, their unpainted pencils are a perfect go-to for drawing and writing. You also have a variety of notebooks to pick from: plain, ruled, or graph paper. In the classroom or just in your daily life, you've got the right medium to work with. Personally, I also like to credit Field Notes with inspiring me to keep a notebook handy for writing down errands, or simply as a place to write down daily tasks. Their original or pitchblack softcover think notebooks are perfect for this including their new water-proof and durable note notebooks.
And now does Field Notes keep things interesting? By constantly introducing new limited edition notebooks. This time they truly upped the ante in design with the wonderful Fall Leaves designs which have embossed leaves on the covers and a limited edition Wilco box set which features one booklet uniquely designed for each band member housed in a hardcover slipcase. I love these booklets so much I can't bring myself to write in them.
Consider this your stocking stuffer alert.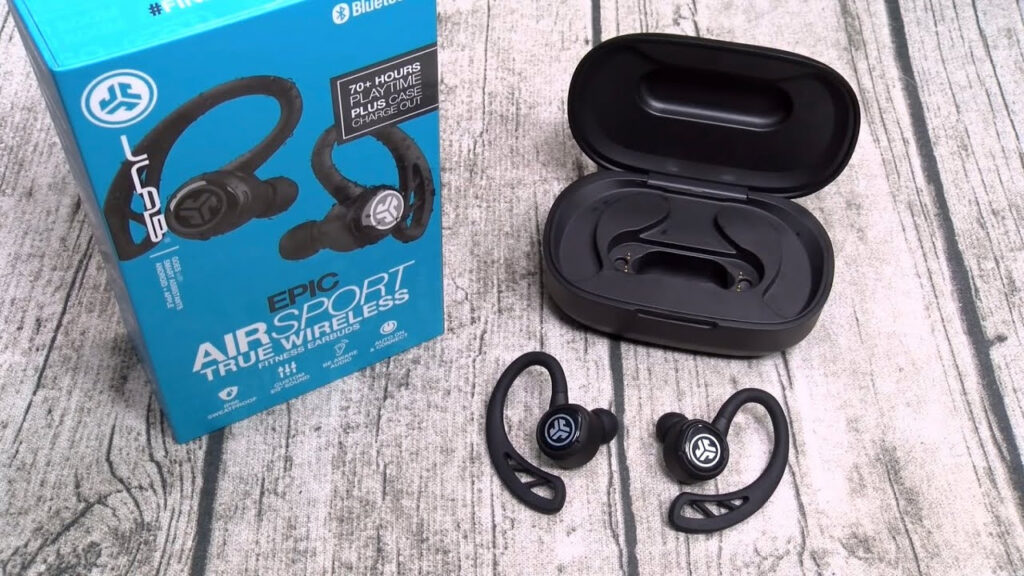 JLab Audio
I've been looking for the perfect earphones all my life. I've come close a number of times. I've also been sorely disappointed. That is, until I found Jlab Audio. There's a reason why Jlab's stuff hits the spot. They're not just sleek and cool looking, none of that faux futuristic bright colors and clunky design. No, Jlab knows how to make audio gear that's not a complete embarrassment to wear.
But of course, we're here for the audio. Or should I say, we're HEAR for the audio. Jlab's stuff is big on sound and light on the wallet. That's right: for a crisp clean sound that packs a punch, the Jlab Jbuds are simply an industry standard. They're sturdy, cool, are designed small enough that they bring comfort and are backed by their lifetime warranty. And whether you're looking for earbuds, over the ear headphones, speakers, or accessories, Jlab has you covered on all sides. And at those prices, you'll be wondering what the catch is. The catch is great sound!
Are you jumping on the wireless bandwagon? Well, I feel sorry for you, but lucky for you, Jlab has made the venture over to bluetooth earphones as well. Their Air Sports True Wireless Earbuds massive range, fit comfortably, and give you that high quality JLab sound.
Do what I do: get a pair of Jlabs, fall in love, then buy a pair for everyone you know.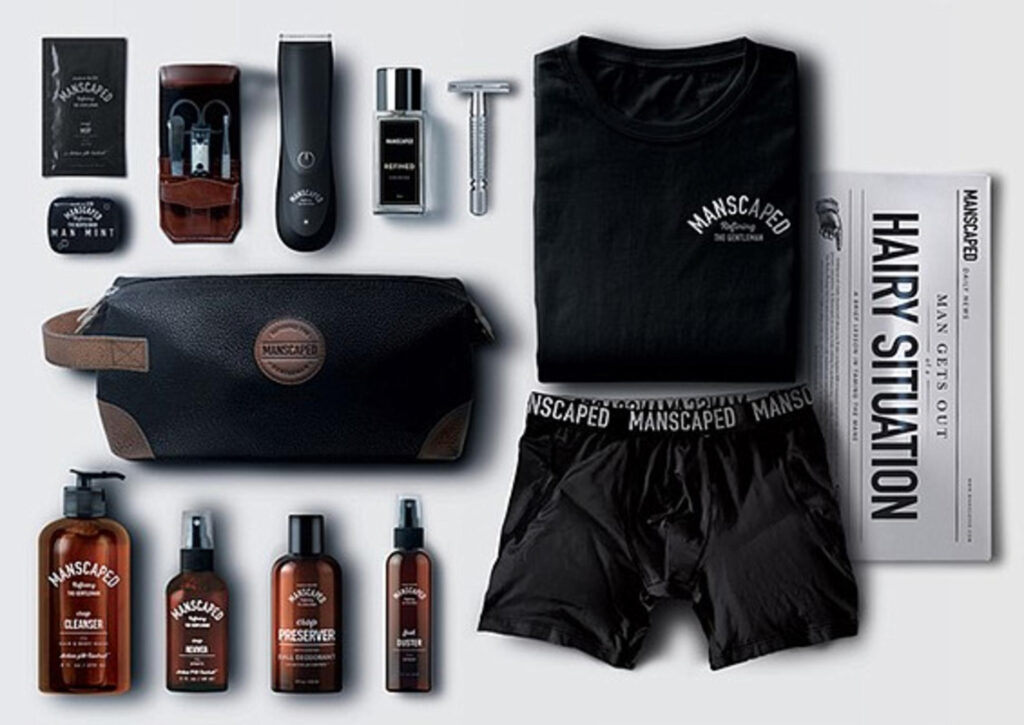 Manscaped
One thing I know is that it's a great time to be a man. For many reasons, of course, and one of those reasons is that it's now OK for you to take care of yourself as a man. It's OK to dress nice, to style your hair, to accessorize, to use lotions and to groom yourself. Of course one way to go is to visit a barber shop every two weeks and ask for the works. Another is to do things yourself. If you're going to do things yourself, you need the right accessories. And if you want the right accessories, you're going to want Manscaped.
Manscaped has just about everything you need if you're going to be a well-groomed man. Forget the fact that they're obsessed with balls, and look at the bigger picture. Look at the Perfect Package. Being a well groomed man takes a lot of work, and this best-of package has the works. It has a reliable electric trimmer that's USB chargeable and comes with multiple length settings. It can be used both for below and above the waist for those of us who are hairy all over.It has ball toner and and deodorant for keeping your junk dry and clean. It has a pair of boxers that is as versatile as it is comfortable. And it has a nice pouch, made of canvas and leather to house it all in. And not to mention their shoe deodorant and excellent body wash. And these aren't curated items either. These are all Manscaped brand. The company is basically engineering all you need to be a well groomed person.
So embrace reality and up your game in self-care. Manscaped has everything you've been wanting but have been too afraid to ask. As a man, you gotta appreciate that.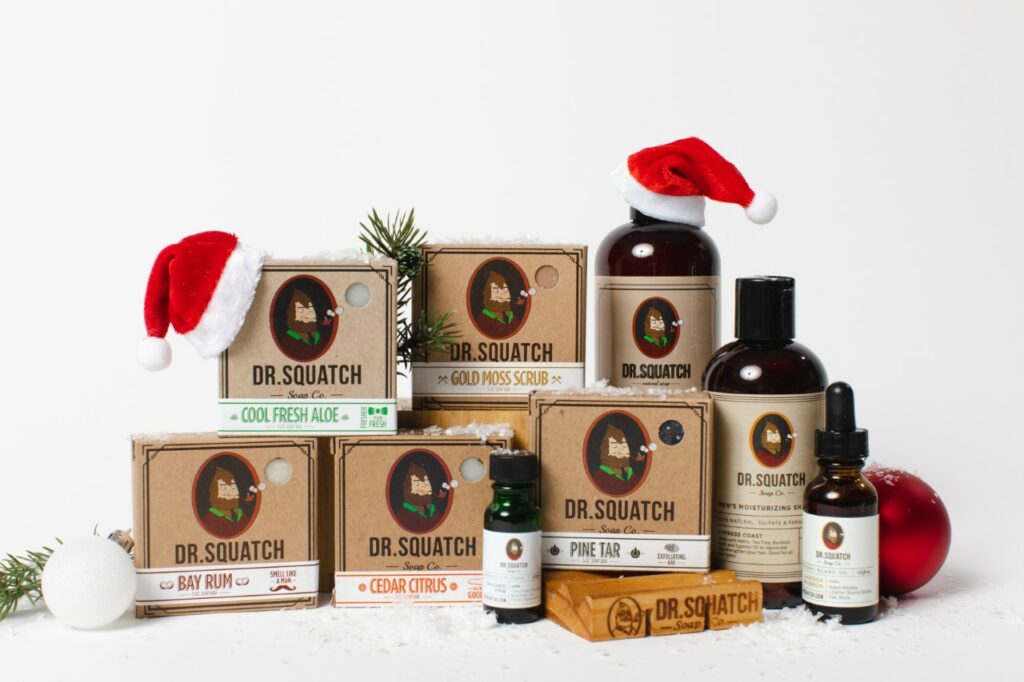 Dr. Squatch Soaps
Why, oh why, oh why do we keep bringing up Dr. Squatch soaps? Oh, I don't know, maybe because they're the best damn soap company in the business. We know you already know this because you read Ground Control on a daily basis and you KNOW what big fans we are.
Dr. Squatch likes to pretend they are made for men, and that may very well be the case, but the truth is that these scents are made to please just about anyone with a nose. You'll love them whether you're a man or a woman. And instead of smelling like a plain old Irish Spring or Dove soap which will turn you into the same stuck up douche as Dj Khaled, Dr. Squatch is in touch with nature. Their soaps smell like moss, bay rum, mint, sage, and even pine tar (our absolute favorite). There really is nothing like holding a sharp bar of soap to know you're getting the job done.
Have you lathered up? Then don't forget your soap saver soap dish which will have your soap waiting for you and will actually save your soap from sticking and prematurely disintegrating on you. And while you're at it, the Dr. Squatch shampoo and conditioner combo are some serious business as well. In the hot summer day, nothing feels more refreshing than that tea tree tingle and their conditioner will keep your hair silky and smooth, you fool.
Know true cleanliness and get Dr. Squatch.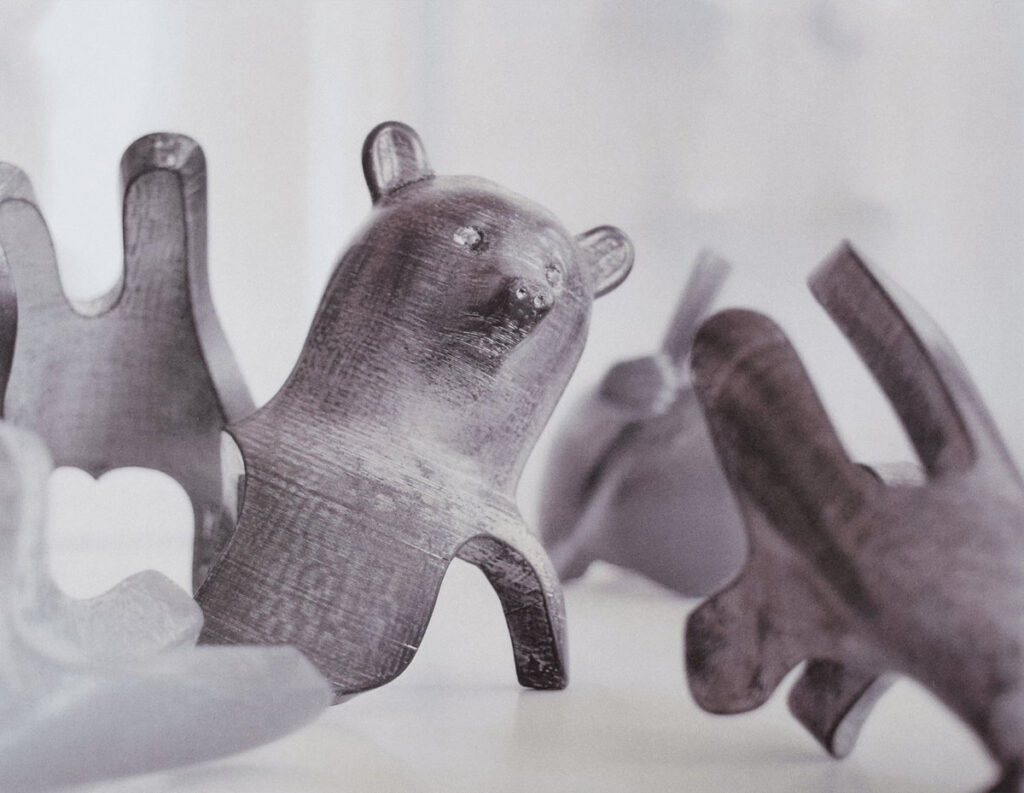 Locknesters
You know at Ground Control that we love coming out of left field with our recommendations. Sometimes, the stuff we like isn't necessarily functional but more aesthetically pleasing. And the figurines from Locknesters are most definitely that, but these things look so cool we just can't help ourselves. I mean, the reason they caught our eye in the first place is because they're so visually striking.
Locknesters offers a variety of 3d printed puzzle figures and we had a hard time picking our favorite. However, being realists, we have to go with the astronaut figure. At least that's our favorite today. Tomorrow it'll be the robot… or maybe the bear. There's not really much left to say about these puzzle figures except that they're simplistic yet full of detail, and feel great to the touch. They demand closer inspection and would fit perfectly in modern, mid-century modern, adult, or kids decor. I know the second I took mine out of its pouch, I knew I found the perfect decor for my baby's room.
Locknesters figures come in large or small, perfect for stocking stuffers, and are in a league all their own. Highly original and great for those who are hard to shop for.