Hello there dear readers and welcome to a new edition of our Back to School Guide. We know, it's been a crazy year, right? For most students, Back to School this year means school from home (at least for the Fall semester), which means now more than ever, it's important to create the right environment to stimulate those neurons. Like with every year we have some old favorites and some brand new goodies that seem to have come completely out of left field. Now more than ever it's important to be smart and stay safe and if you've done so, treat yourself and get ready for a new year of learnin.'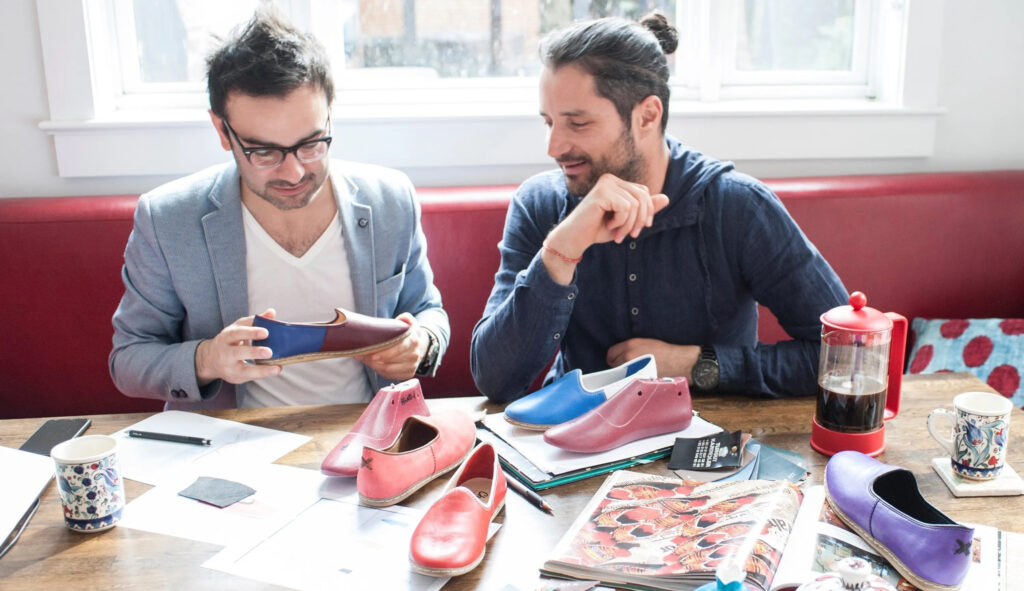 Charix Shoes
We have to start with one of our favorite new companies this year to set the tone for this year's B2S guide and that company is none other than Charix Shoes. Personally, there are few things I love more than a perfect pair of slip-ons. I wear them in the Summer and the Winter. I have some go-to companies when I need to renew a pair (some of whom have been featured on this guide), but this year Charix took it up a notch.
When you look at the Charix catalog it becomes immediately clear that they figured out the perfect design. All you have to do is pick the color that best represents you. Charix shoes are headquartered in DC but made in Istanbul Turkey. They are handmade and wonderfully crafted with a non-skid outer sole, memory inner sole and natural leather that stretches and conforms to your feet. After a couple days of wearing them, the shoes will adjust to the shape of your feet and this leads me to the one problem I have with Charix Shoes: now that they're broken in I never want to take them off. The more I wear them, the better they feel and the better they look. They are now my default work shoes, biking shoes, beach shoes, and around-the house shoes. They work with a casual shorts look, or a dressier style.
These are the shoes everyone's going to be talking about, and for good reason. Try on a pair of Charix shoes and you'll possibly find your MVP of the year.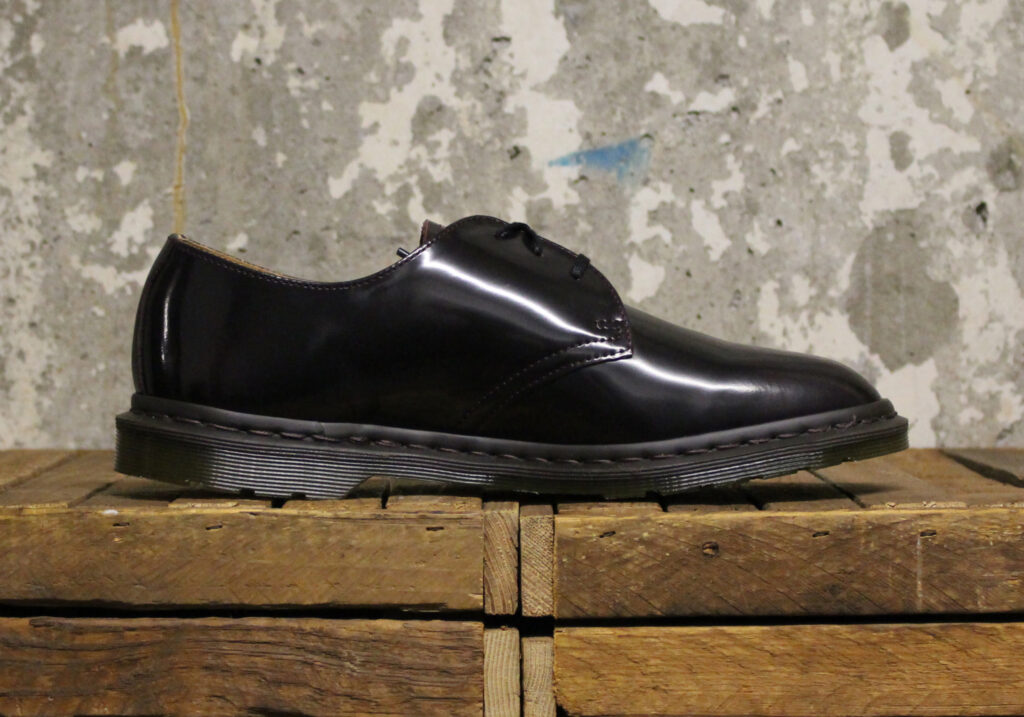 Dr Martens
At this point, we don't just feel like we're friends with Dr Martens — we're family. It's great to know that wearing Dr Martens is like going to Olive Garden. No, but in all seriousness, we keep featuring these guys in our guides because we love these shoes. And Dr Martens isn't just the boot company they used to be, they're much more than that.
Over the last many years, they've gone from making timeless boots to making shoes fit for every occasion. Now, of course, every shoe collection needs a pair of Dr Martens boots, which work for the hot Summer or the cold Winter. Trust me, these bouncing soles offer the perfect grip on the slippery ice. But there is also a huge catalog to pick from, from sandals, to snow shoes, to work shoes, to loafers to dress shoes.
Dr Martens has gone from the best stop for boots to the best stop for anything you need to wear on your feet. I, for one, have been looking for the perfect shoes to wear with my suit, and I found it in the Archies. I can wear them in dressier situations and at work. And that's the essence of Dr Martens. Their designs are so classic looking that it makes their shoes incredibly versatile.
I know you're not the kind of person who's been depriving themselves of a pair of docs in their collection, and I know you have those 1460s which are so beloved. But branch out a little and you'll find a whole new world waiting for you.
https://www.drmartens.com/us/en/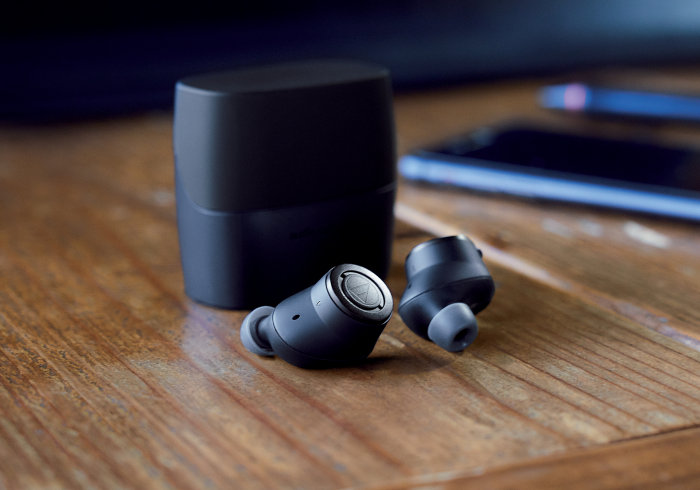 Audio Technica
Here at Ground Control, we're Audio Technica people, and by now you should know that. Whether it's microphones, turntables, or headphones, we're woozy with anticipation when we get to review a new AT product, because they're a company that takes audio very seriously.
How seriously? Well, if you're picking headphones, microphones, or turntables, and you go with AT, chances are you'll pick a superior product. No one has EVER said, "Oh, you got an Audio Technica? Tough luck!" And that SAYS something. So, of course, when we got to try out the wireless ATH-ANC300TW earbuds, we knew we were going to try out a quality product.
I've taken to running in these quarantine times, and as a firm believer in wires, I still rocked my favorite wired earbuds on my runs because I couldn't get good sound from my other wireless earbuds. I put up with the noise that would come from the bouncing wire, or would tuck it under my shirt. But with these ATH-ANC300TW, I finally found my go-to MVP earbuds. First of all, the sound is unmatchable, and AT figured out that the part that goes in your ear needs to be as small as possible so that it stays comfortable. One thing I would recommend is that you keep your favorite rubber tips handy and use them on these earbuds because, for some reason, AT doesn't pack rubber tips big enough for my giant ears. But once that problem got solved, I was left with an intimate sound, with low noise, and comfort that I can rely on every day.
Audio Technica has done it again, and raised the bar for inner ear wireless earbuds. Is anyone surprised?
https://www.audio-technica.com/en-us/ath-anc300tw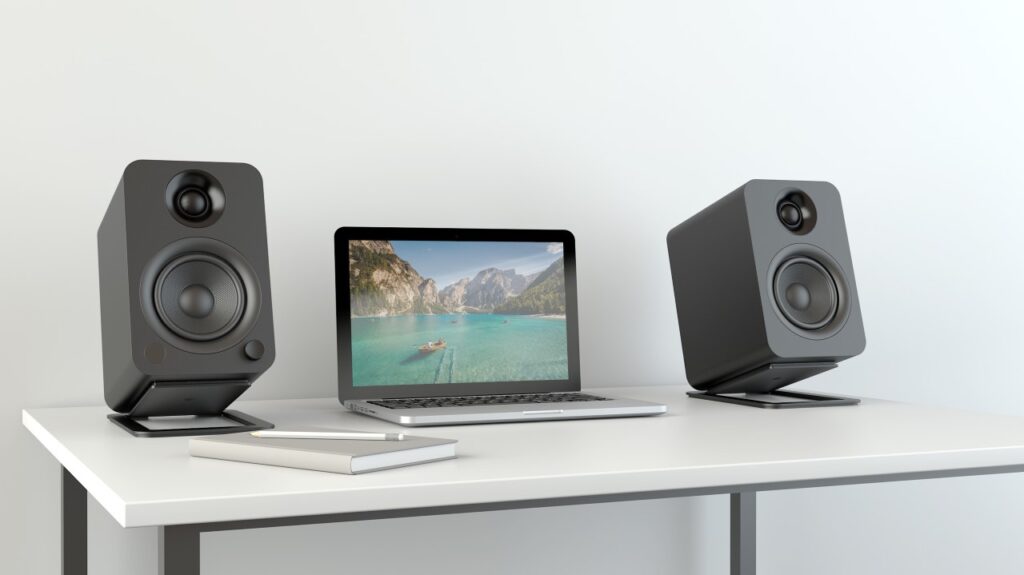 Kanto Audio
Setting of your hifi with the proper gear can be a daunting task. It's a thing of pride and you want to make sure you're getting quality product without breaking the bank. I knew I was in good hands with an Audio Technica turntable and a Schiit amplifier. So that leaves maybe the most important part, which are the speakers. And thank the good lord I went with Kanto speakers.
You know that Kanto makes speakers for every occasion: computers, TV, portable music player, cozy music room, or dancehall craze. I went with the fourth option, and I almost cry every time I start up my speakers. For one thing, they come in a variety of colors, and of course they have a matted black finish. Second, setup was a breeze. Third, it took me a little to figure out how best to sync up my speakers, but now that I do, I'm getting the audio I've always wanted from my speakers. I've played classical, jazz, punk rock, and rap out of these speakers and the sound is nothing short of impressive. It gets loud when it needs to be and doesn't overwhelm with too much bass. They're also incredibly noise-less, meaning all you hear is crisp audio. I can even kick back with my remote control and control the audio level and tweak my treble or bass if I need to.
Kanto speakers were the final element in my hifi to make it all come together and they're a slam dunk. They have every speaker for every budget with sound you can rely on.
Kanto Audio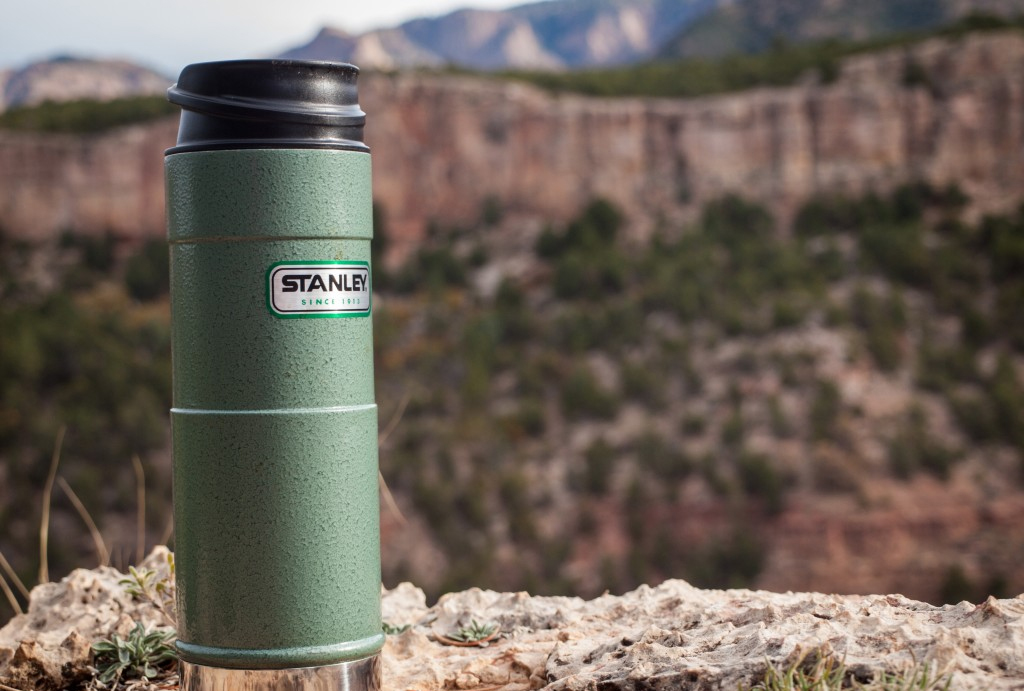 Stanley Outdoor Gear
Now more than ever it's important to take notice of the Stanley brand because it seems like the outdoors is going to be the only place where we can find safe enjoyment. And good for us, it's about time we started appreciating nature and camping more. I know I certainly have a turbulent history with it. But in the age of social distancing, some hiking and the outdoors is just what the doctor ordered.
And If you're going to be outdoors you need to be prepared. And lucky for you, Stanley has done all the preparing for you. They've got all the stuff you need to make your camp or hike an enjoyable one, from flasks and coolers, to amazing water bottles that magically keep your water cool for more hours than they should, to practical, portable, and high performance cookware to provide you with the meals to keep you going, and some top notch coffee prep gear as well.
And since this is Stanley we're talking about, you know you're going to buy this stuff only once. This brand is so well-made and durable that you're going to grow old with it and give it to your grandchildren, and it's still going to look good. These thermoses will survive a mountain lion attack or a fall off a cliff. That's craftsmanship that's both stylish and dependable.
If you're going to be outdoors you might as well be prepared.
Stanley Gear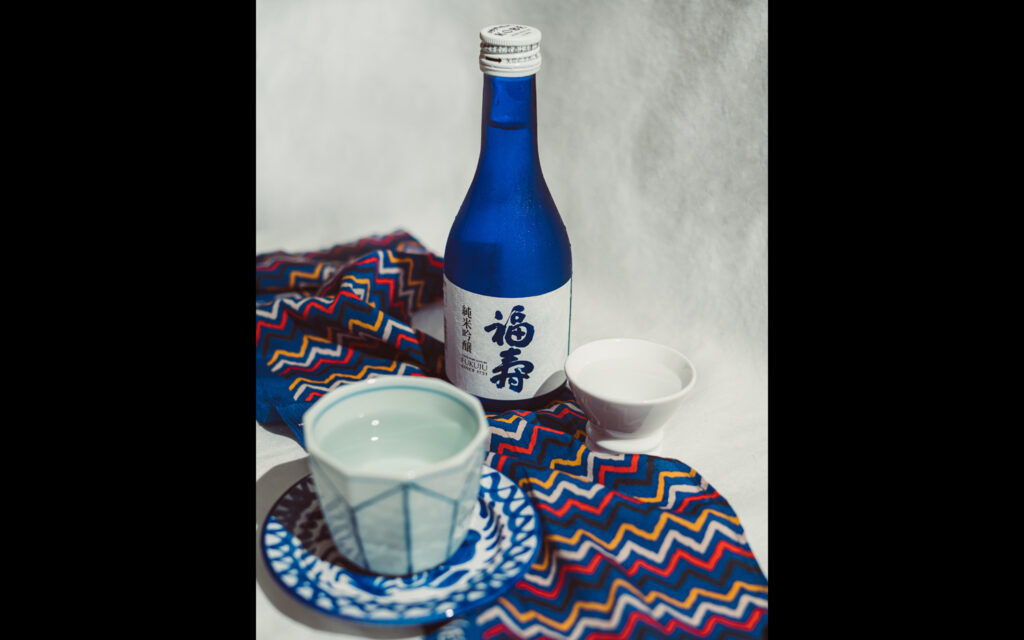 Tippsy Sake
Now for something completely different, and only if you're 21+. It's especially true now that we're living in a mail-order society, and this applies to clothes, electronics, food and alcohol. Pretty much the coolest online ordering service right now is Tippsy. They're not offering beer, or wine, or liquor, but Sake. You read that right: Sake.
Sake is the final frontier for those of us looking for a new artform in drinking. It certainly has history in its favour having been painstakingly crafted in Japan for over a thousand years and offers a wide range of flavors and complexities. And unlike other forms of alcohol it's made to be enjoyed either cold, room temperature, or hot.
It can be intimidating getting into Sake with such a wide variety of choices, and this is where the curating of Tippsy comes in. They offer not just the widest selection of sake online, but also have a monthly Sake service that can be perfectly assembled to fit your sensibilities. Personally, I prefer my Sake on the sweeter side and cold (I blame the hot Summers of New England), and my box contained a perfect assortment of sake I had not tried before. They also come with cards describing the history of the sake you've ordered, its flavors, and how best to enjoy it.
Tippsy takes mailorder alcohol up a notch with a service that can be both fun for newcomers and a veritable museum of sake for more serious fans.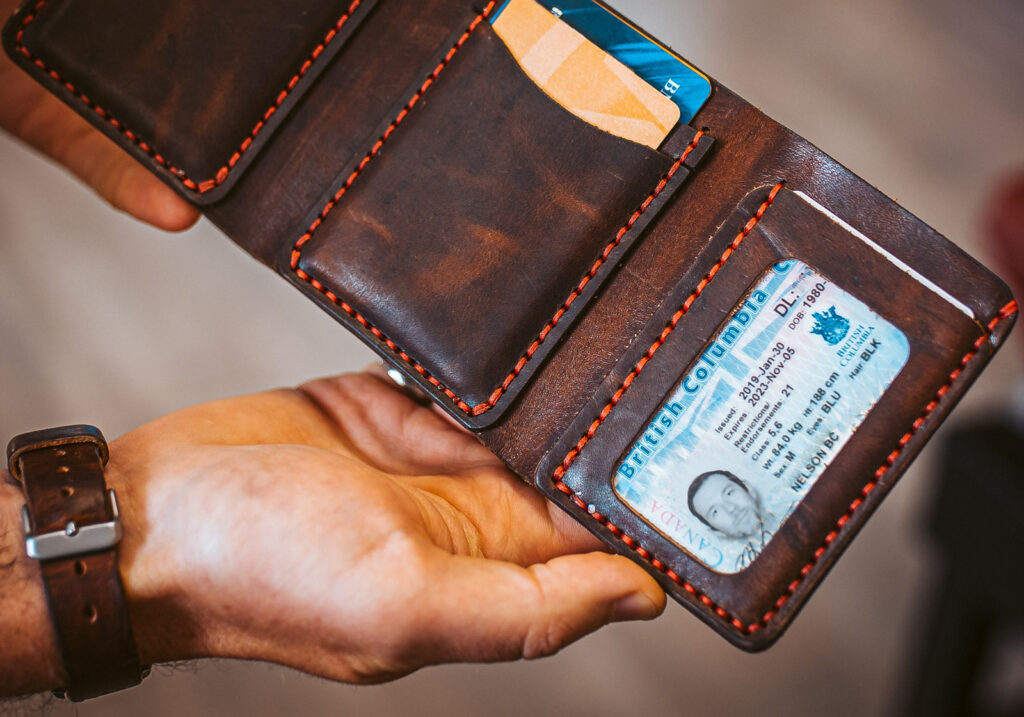 Popov Leather
I have a certain weakness when it comes to gimmicky clothing articles. This varies from crazy beltbuckles to novelty wallets. But when the latter broke down, I finally decided to get a big boy wallet. One that actually looked good and would last me a lifetime. And when I found Popov leather I knew I found what I was looking for and much more.
Popov Leather offers not just a wide variety of hand-made high quality wallets, but they've also got notebook covers, belts, watch straps and even do-it-yourself items if you want to take a crack at this artform. And of course you'd want to buy from Popov because they're a small business who isn't afraid to show off their employees so you know exactly who made and handled your goods.
What's more important Popov puts their money where their mouth is. Their wallets (which we have experience with) need just a little breaking in (as fine leather does) to get its shape. And boy does it look cool, slick, and classic. And to top it all off, it's the kind of leather that feels good to the touch and you'll want to handle. No longer will I be ashamed to pull cards out of my wallet. With a Popov Leather wallet, I can do it with pride.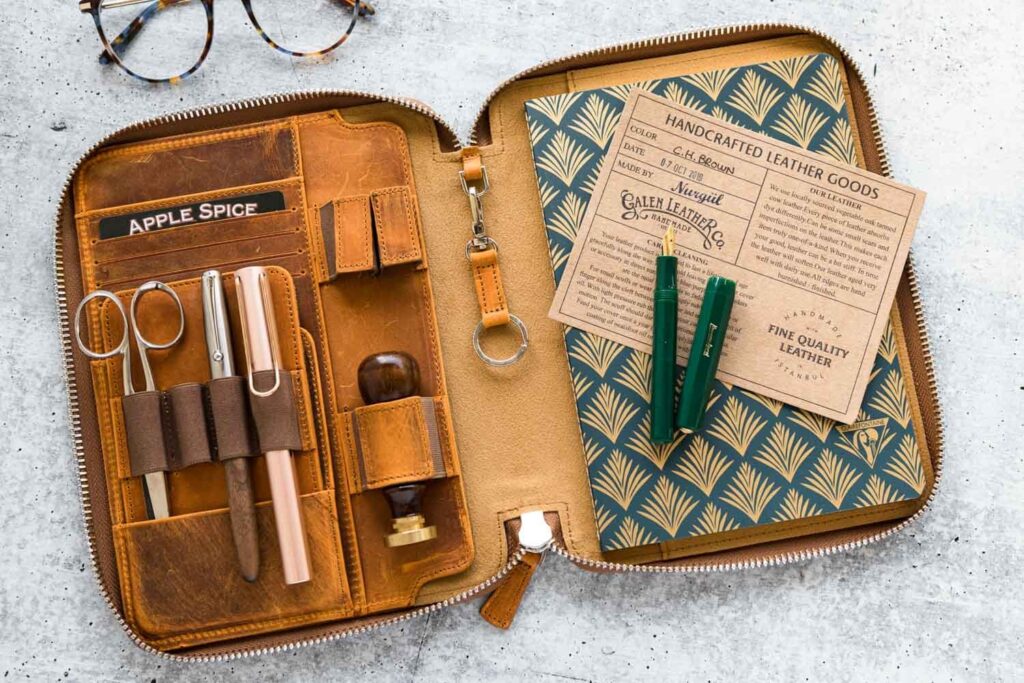 Galen Leather
I don't know what it is about Turkish craftsmanship that speaks to me so much. Maybe it's because I am Turkish. Yes, that might have something to do with it. Can I help it if I like to talk about the works of my people? After all, Istanbul is the gateway between Europe and Asia and such a rich history is bound to bring some high end craftsmanship with it.
What struck me right away from Galen Leather is their sheer range of quality leather goods. They have everything from leather bags, notebook covers, phone accessories, cases, and even fountain pens. Personally, as someone who's constantly doodling and working on their art, or scribbling in their notebooks, I had an immediate affinity for their notebook cases. They are small, compact, made of heavy duty leather, and contain receptacles for your pens so everything stays together. And speaking of pens, their fountain pens might just have converted me. I just never considered it an option, but if you want the smoothest experience when writing, look no further. And I am definitely someone who tries to appreciate a good writing utensil.
I don't have to convince you any further, but let me just say that all of Galen's products are 100% handmade in Turkey and will ship to you in as quickly as 3 weeks. It's going to go across the world from the craftsman to your hand. Unique and special.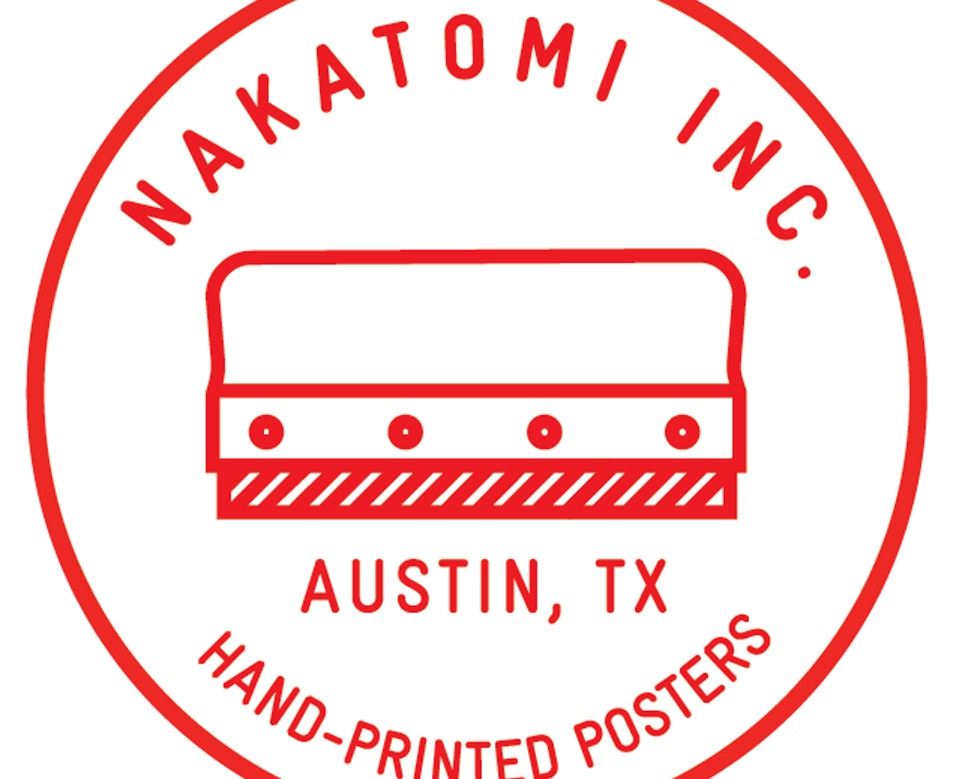 Nakatomi Inc
Let me tell you a story about how Tim Doyle's art made an impact on me. Austin Texas is one of the great cities in the US, it's both incredibly fun and incredibly hot. I've always wanted to visit but never had a chance until a friend there decided to get married, so off I went on a direct flight from Boston to Austin. If it's one thing that's fun about Austin, in addition to the food and alcohol, is the emporium shops where you can find anything from vintage cowboy boots to home made beer soap. One of these shops had a Tim Doyle poster for his Wes Anderson series and it immediately caught my eye.
I remembered that poster when I came back from my trip and went on an internet search trying to find it. And what leads did I have? The words "Wes Anderson" "Print" and "Austin." At about the 10th page of images search, there it was, the poster I was looking for, and the artist name. I've been a fan of Tim Doyle ever since.
One look at his art and you know why it stands out: beautifully recreated pop culture scenery with only minor references. Yes, unfortunately, a lot of pop culture art these days is lacking in subtlety which makes it almost impossible to display, but Tim Doyle seems to have figured out this simple equation. It's hard not to love art that references the Simpsons, King of the Hill, Miyazaki, and Wes Anderson, and lucky for us, all of these hand screen prints are available from Nakatomi Inc. There's art that looks nice, and art you NEED.
Buy it from the Nakatomi Inc website, who are an art collective and not mindless robots. You'll be doing the right thing.
https://store.nakatomiinc.com/timdoyle.aspx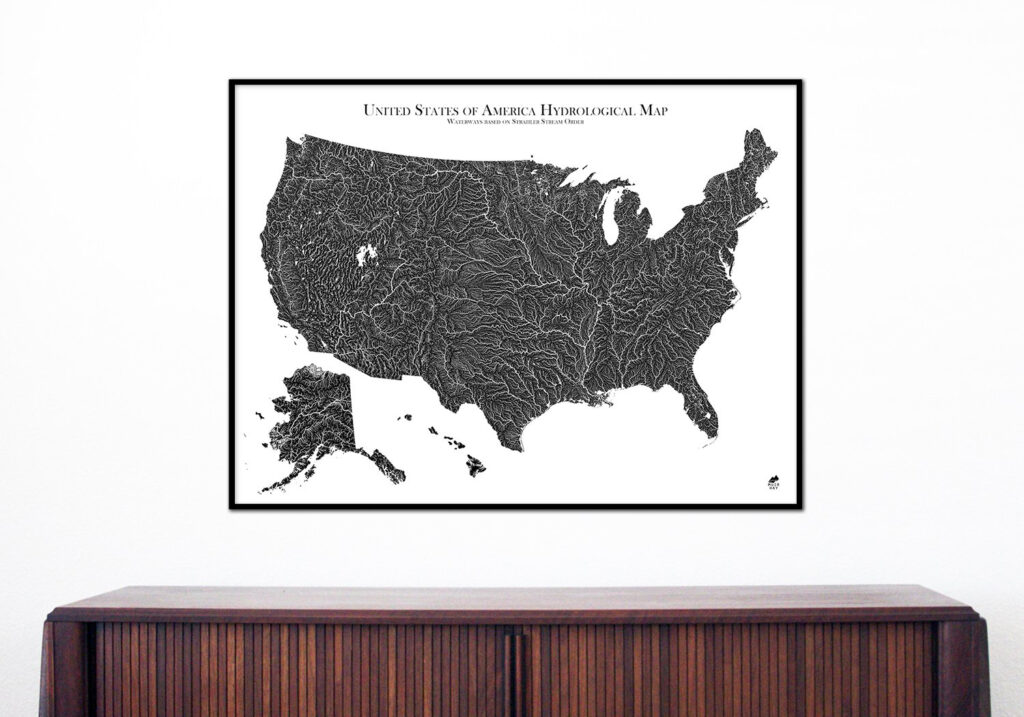 Muir Way
This semester, the class environment might look a little different, and everyone's upset about that. But, it's not all that bad, because now you get a say in how your learning environment looks. That periodic table? Forget about it. What you need to do is rediscover your love for American geography. Maps are fine, but hyperspecific maps are just plain cool.
Muir Way has a very specific niche that it does extremely well. What caught my eye of course is their Hydrology series mapping the bodies of water and rivers of the country, or state, or continent. They are extremely detailed, printed on high quality stock, and simply mesmerizing. You know, it takes a certain kind of unique approach to make you admire a piece of geography you'd been staring at for decades and thought you knew like the back of your hand.
But of course, that's just one of the series Muir Way offers, and their recent one looking at elevation is equally unique and breathtaking. I know plenty of hiking-loving friends who would love to have this on their wall.
Muir Way has figured out a way to make art that's both new, classic, and appeals to a wide audience. You put one of these on your wall and you just spruced up your surroundings a couple levels. It's just that easy.
Muir Way Elevation Series>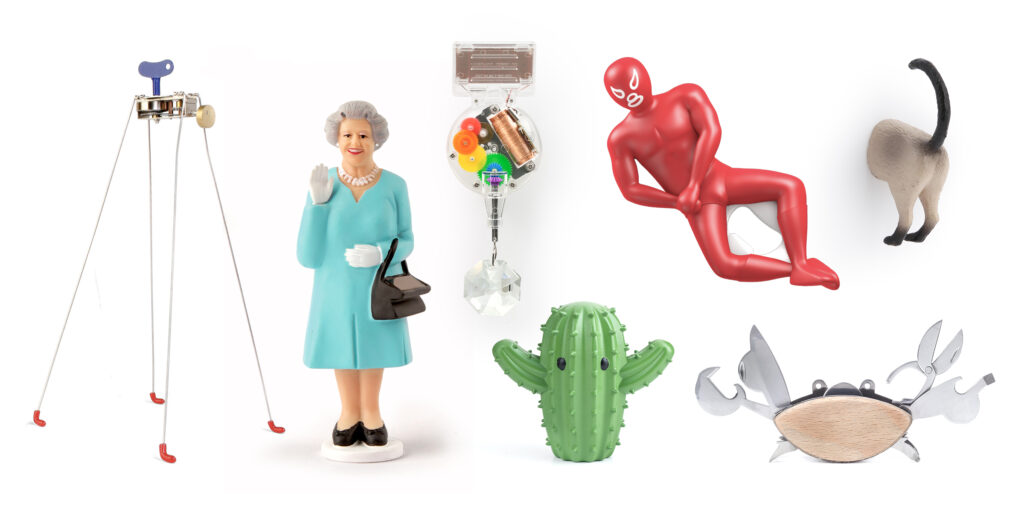 Kikkerland
Kikkerland is one of those companies we just can't keep away from, because they keep upping the ante and making newer, practical, cute, and useful products. We've said it before and we'll say it again, there is no better destination if you're looking for a unique gift for someone or if you're looking to find that little something that's missing in your life.
Their catalog has expanded massively since we first featured them years ago, and you'd be surprised by the areas these cute trinkets cover, from housewares, to stationeries, to gardening, to advanced toys, to craftsmanship, to tech, and commuter items. So if you browse Kikkerland's site, you'll find a variety of things, like the perfect garden maintenance set, or a handy keychain, or much needed notebooks and pens, or kinetic toys you can assemble yourself, or accessories for your bike, or the most portable bluetooth speakers. And what's more, they come in a variety of shapes and sizes and unique designs you simply can't find anywhere else. Kikkerland is full of practical and artistic ingenuity.
We dare you to browse their site and not find 10 different things you didn't know you needed and 10 more gift ideas for that perfect someone in your life. There's a reason we love to feature Kikkerland, because they love us back.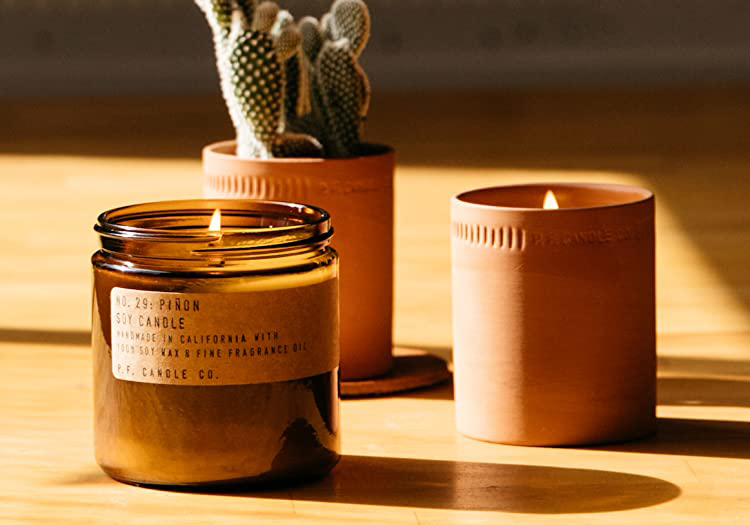 PF Candle
To say that life in the time of COVID has been stressful is an understatement. And that's keeping in mind that most of us only have our jobs and personal life to worry about. Some people are out there in the front lines, putting themselves at work for the greater good.
So with this mess to think about, work piling up, and a light very far off in the tunnel, is there any wonder that I'm trying to appreciate the little things in life to recharge and keep me sane? After a stressful day at work, there's nothing like making myself a hot cup of coffee, curling up with a book, and lighting up a candle from PF Candle company. It's not just that PF Candles have some of my favorite scents, or that their candles burn beautifully and clean, it's also that there's a certain aesthetic quality to PF Candles. The entire container is almost like a work of art where you feel bad burning the candle because it means you have to get rid of it at some points. But burn it you shall, and you'll know why.
PF Candle company offers some of the most unique scents like Amber and Moss, Sandalwood, and Grapefruit. So none of that goofy stuff like "Bubblegum" or "Unicorn Love." This is serious business and PF Candle knows how to keep it classy.
Get a PF candle and make your living space a little nicer in the process. Who knows, it might help keep you sane. I know it's helping me.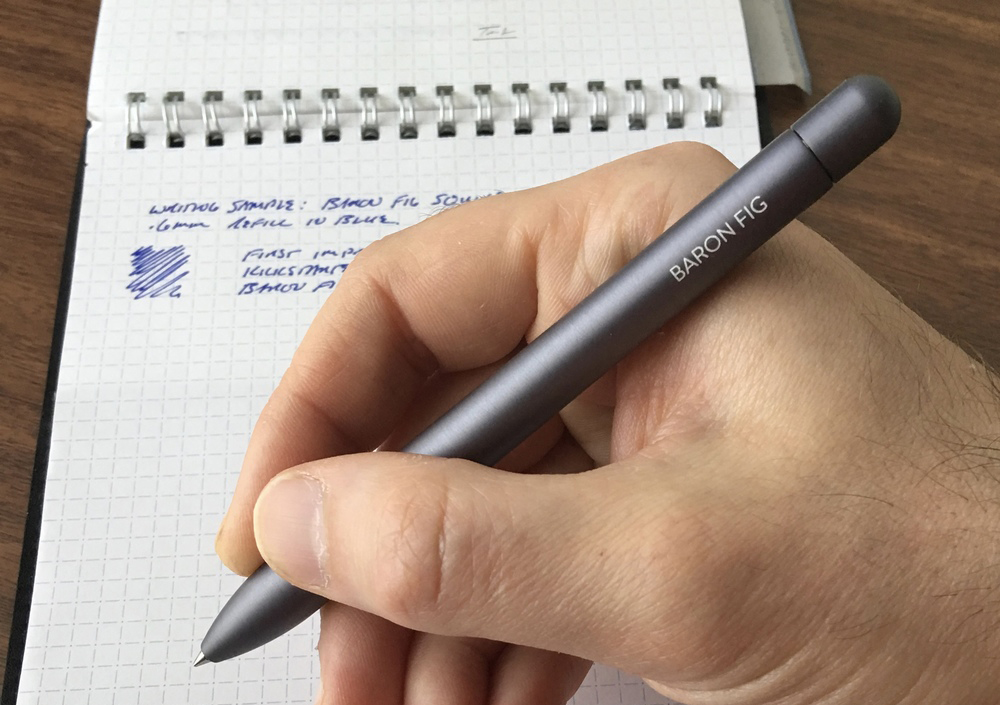 Baron Fig
I am a man who covets a good writing utensil. Yes, I might have such terrible writing that I got written up at my job since no one can understand my labels, but dammit, I love writing the old fashioned way. I don't know if it's my love for analog, but there's just something about putting pen on paper that is both terrifying and feels so good. But to be clear, you need to have good paper and a good pen to get that done. And lucky for you, Baron Fig does both.
I've always thought of Baron Fig as the only real contender to that other notebook company. And that's not to put anyone down, because Baron Fig just makes such a great product. Their notebooks are slick, sturdy, and wonderful to write on. Now, as it happens, Baron Fig has also engineered one hell of a pen: the Squire. What's important to remember about a great pen is that it has to feel good when you hold it and also be versatile. Right off the bat, there's a certain heaviness to the Squire pen that holds your attention when it's in your hand. And, the smoothness with which it writes probably has to do with the design and the high quality cartridges that Baron Fig makes. The Squire is made of stainless steel and designed to have an ergonomic shape for comfort. Does it show? You bet it does.
What we can appreciate about Baron Fig is that they're expanding their horizons and doing it well. They get into a new thing and keep their standards for quality we can all appreciate. You have pens, and then you have THE pen in your arsenal.
Baron Fig Writing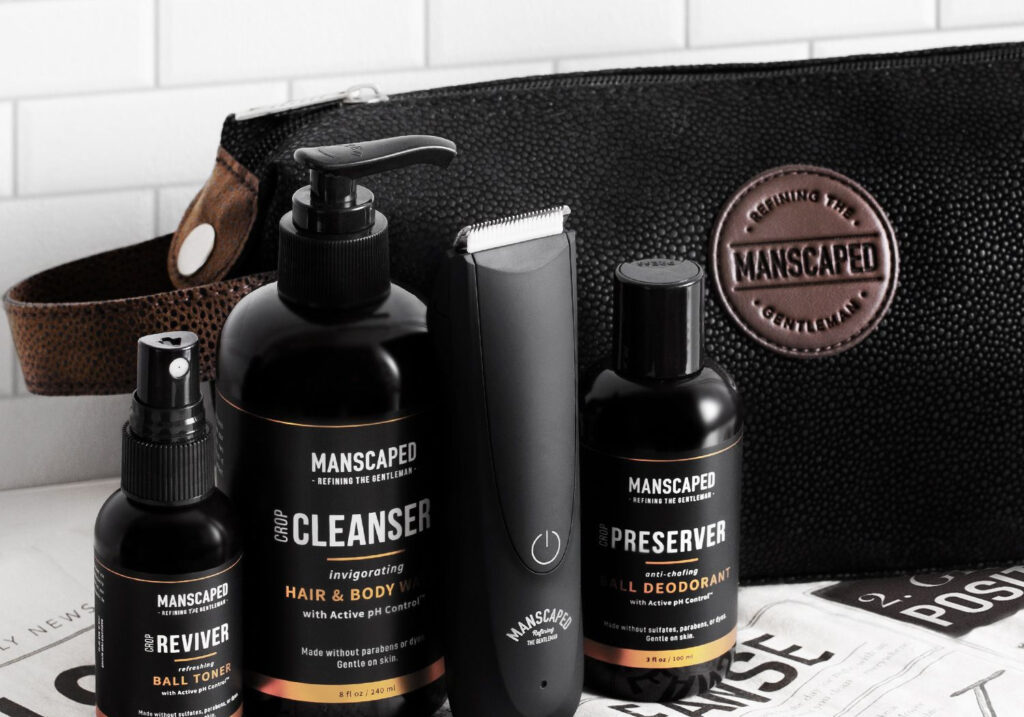 Manscaped
No longer are we embarrassed to be men who care about the way we look. And news flash, men's grooming is as important for the looks as it is for the mental element of the technique involved. Do I care about having a neat beard line? Of course I do? Do I care about having prim nails? Everyone should. And Manscape has you covered for all those things you need to do before you get dressed. And we mean everything.
What first made us want to approach them was the Lawnmower: the perfect wireless trimmer designed to be the hairy man's best friend. What made us stay are the many other products they offer. Such as their body wash which does the tough work and leaves you feeling clean. Or, the Weedwacker nose/ear hair trimmer, which let me tell you, gets harder and harder to keep under control as you get older. Or, the Sheer nails grooming kit which comes in a portable package so you can keep all these gadgets together. Really, these are all things we know we need and it's all in one place.
And don't forget when you're checking out to add a pair of their boxer briefs, for the best pair you've ever worn in your life. You can take my word for it, or you can let the product do the talking. Either way, you win.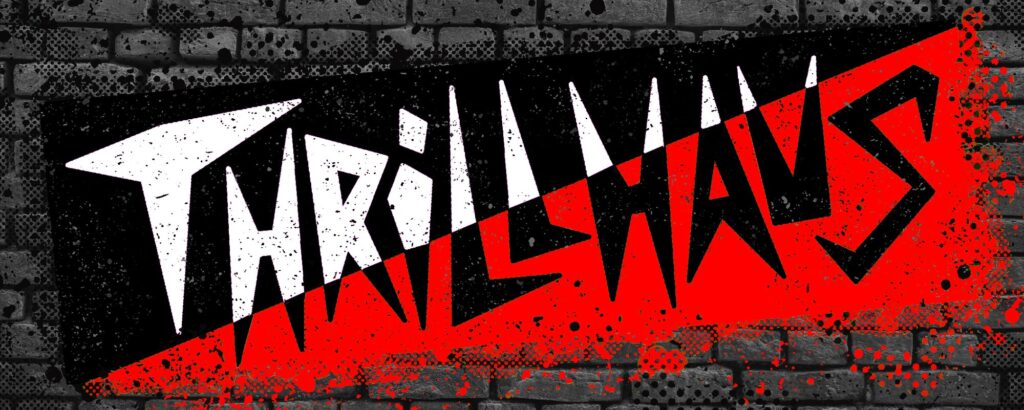 Thrillhaus
It's a time for shirts. What do I mean by that? Shirt designing is becoming an artisanal thing, with unique designs, printed in small batches and available in a limited quantity. For a certain group of people, a well designed, unique shirt, is what stands out in a sea of mass produced stuff. And with reason, because shirt making has become easier and easier, and with it the quality has gone down greatly. By that I mean that shirts are becoming easy to make on a deskjet format and not screenprint, and when the technology becomes available to everyone, you can just copy anything off the internet and put it on a shirt. With that, it's the good shirt companies that stand out.
Thrillhaus has been on our radar for quite some time because they've figured out a very niche style. It's punk rock, political, with a heavy dose of cartoons. It's all a mishmash of very specific references, and it fits our style perfectly. Thrillhaus has pins, patches, shirts and hats, and if you get what message they're going for, an instant smile comes across your face. There's a certain amount of ingenuity and wit that you just don't find anymore. Get their shirts and you can bet you'll be the only person in a 100 mile radius with a shirt that cool. And hurry up too, because these things run out fast.
These guys are German so they understand quality and they understand efficiency. Order from them and they'll ship around the world faster than you can type THRILLHO.
https://thrillhaus.myshopify.com/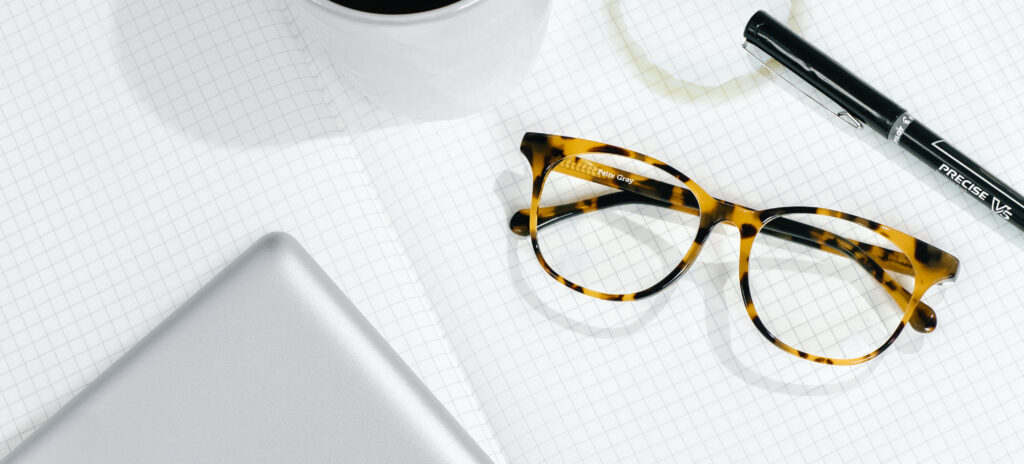 Felix Grey Eyewear
One of the wonderful things about the internet is that it's brought down the tyranny of getting new prescription glasses. Remember the days when you had to pay $50 to get your eye prescription renewed, then pay $200 for frames and another $200 for lenses only to find out your insurance will only pay for half? Why does a piece of plastic end up costing you half a grand? Because we've been suckers all our lives, that's why. But now we have customer-friendly companies like Felix Grey.
One thing I love about Felix Grey is that they have a limited stylish amount of frames available for you, because let's be honest, the choices can be overwhelming and they all end up looking the same. What Felix Grey does is hone in on the most relevant frames to your face shape and let's you go haywire on the color. Also, their system of premeasuring your facial features means a professional will be able to guide you to the right frames for your face. Another awesome feature about Felix Grey is that they offer lenses that minimize screen fatigue, which is an absolute must now that most of our job has moved to an exclusive online format. You have to look at your coworkers' dumb faces half the day and then look at datasheets the other half. Your eyes are going to take a beating, but these lenses make it so you can push on and get the job done.
Felix Grey is fighting the man and putting the power back where it matters. They have a wide variety of styles, custom designed to fit your face, and they don't break the bank. Up your game and check out Felix Grey.