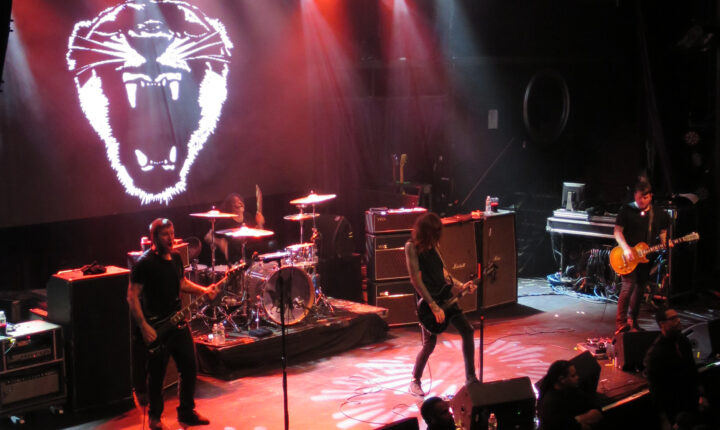 Against Me! Live @ Royale [Boston, MA] 10-22-19
Thursday, 24 October 2019
LIVE MUSIC
As an old school Against Me! fan, let me just say that I'm getting excited about them all over again. Particularly because they've recently welcomed old bassist Andrew Seward back to the lineup. This band is resembling more and more the one I fell in love with all those years ago. All they need now is the return of Warren to the lineup. Is that gonna happen? Who knows. But what I do know is that they're playing 4 albums over the course of 2 shows in Boston.
I'm an old man, so it's the Tuesday night performance of Searching for a Former Clarity and New Wave that I wouldn't want to miss. It has been a while since I've seen Against Me! (more than 8 years) and they've gone from my favorite band, to a band I look back on fondly. I don't know why, but as the band had changed so much over the years, they became one that I didn't recognize anymore. What is frontwoman Laura Jane Grace supposed to do? She's always been the driving force of Against Me! and it's no surprise that she'd find the means to carry on after all the obstacles that have been placed in her path.
Of course one of the thrills of seeing a band live is what songs are they going to surprise you with and make you rediscover. That's much harder with a preset setlist. And not to jump ahead, but with the exception of playing Thrash Unreal at the end of New Wave, that's exactly what they did. Not sure why, as The Ocean is one of the more emotional and prophetic Against Me! songs and is a perfect closer.
And why no Axl Rose or Eternal Cowboy? They are treating us with a medley of each album for an encore on each night, so fans should get a little taste of the stuff they love.
There are so many great things one could say about this particular performance but let me just focus again on one thing: the return of bassist Andrew Seward. It's quite remarkable seeing just what he brings to the table. It's clear that the years being away from the band has not deteriorated his skills as Seward is 10 times the bass player he used to be. The kind of energy he brings to the love shows is undeniable. And that banner of the old cowboy riding the lighting was a sight for sore eyes. It was like being reunited with old friends. Add to that the precision drumming of Atom Willard and you've got one of the tightest rhythm sections in music right now. And it truly helped solidify them as one of the tightest acts truly at the top of their game as far as live performances are concerned. Revisiting these songs in such a setting was revelatory just as far as how much life this band still has and what an impact their songs can still make. Against Me! have music pumping through their veins, and I'm certainly excited as to what the future holds for them.
There are a few full album shows still coming up including a Fest performance in Gainesville which one can only hope will mean more pleasant surprises for the lineup. Go see the magic they bring.