We dreamt about it; that night we fell in love at the Baths concert in San Francisco just 5 miles west of the ocean. A sold out show at the Independent on Divisidero in the middle of the city where the cool kids who spin vinyl stand in the front to have their drums blown out by the bass in the speakers created by the dynamic duo Baths. Duo? You must think I'm confused… but it's true. One single man makes up the L.A. electronic band Baths, 21-year-old Will Wiesendfeld; For live performances has a second bandmate to help out on tour, musician Morgan Greenfield.
Wiesendfeld said San Francisco is his "favorite city to play in". Though seemingly, it's every band's favorite city to play in. He announced a new album on the way with use of faulty tech… maybe that means distortion is trending. Wiesendfeld described his creative process to be "just add shit on the computer and wing it".
There were 2 opening djs: M. Geddes Gengras and Brogan Bentley, who provided on par background beats, but background beats at that. My trio stood towards the side chatting and soaking up the space like everybody else except for the group of dedicated dj followers (like rock groupies but more into beats). A man from this posse of large men with snap backs and black hoodies told us to hush, as if we were louder than the boomy speaker next to his left ear. This is for the opener, mind you. It was clear the rest of the audience was not there to dance: they were there to nerd out on some live beat making and chill with the homies.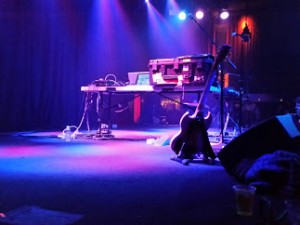 Baths laid down some sick beats, no doubt. With a melodic tune on the guitar and floating bubble sounds, the headnod test succeeded only 50% of the time. A skinny girl in a striped shirt crosses her arms for a duration of the show. I overhear another say "he's got mad beats but I hate his voice". Wiesendfeld does provide ultimately unique vocals in high frequencies. It could have been blamed on the sound, but overall the show just wasn't pleasurable to people's ears on the high end.
Personally, I heard the composure in his music. He would mix light, airy sounds into west coast bass inspired beats with tron like scraps. You can see his post-punk soul, or more accurately hear it in the screaming emo ballads.
Maybe emo is out of style.
On the way out of the bathroom a chick said it was the worst show she's ever seen.
I wasn't too bummed out by the blue and pink lighting.
The Faculty recommends his produced albums on some bumpin speakers in a room you can dance in. The album Ocean Death (2015) is rockin. I've listened to and have seen his live shows online and quite enjoyed them. I expected more out of this live performance and it was not delivered  for me and obviously several other audience members.
So it wasn't the night we fell in love at the Baths concert, that will be another night with another band.
Until Next Time,
Amanda Faculty