Welcome one and all to the happy tidings brought to you by our yearly Holiday Buyer's Guide. Like every year, we bring you a list of perfect gifts and stocking stuffers. Some are old favorites and others are brand new! 'Tis the season for giving, but also of rewarding yourself for having given so much.
You know the drill: we're not going to bombard you and drone on and on. We're keeping it sweet and simple and tell you exactly what we love about each company and their products and why it might be the right gift for you or a loved one.
Check it and be merry!


Magazine Subscriptions and Charitable Donations
We start off every year with magazine subscriptions because now more than ever it's important to invest in some good old fashioned journalism or to just donate to some charitable causes. You can buy nice things for your ears, body or eyes, but what about your mind? It needs food too, and the very nutritious kind.These are just some of the outstanding publications which have proven tried and true to their cause. You can't go wrong with them.
The Nation, The Progressive and Mother Jones are the bees knees when it comes to news, and are loaded with worthwhile and helpful pieces that serve to empower and enlighten. As far as music is concerned, Razorcake is just about the best damn music zine out there and a great place to find out what all the cool new bands are (they're not better than Ground Control, of course!).
Finally, there are plenty of charities and organizations that need your help this year. You can do so on a local level like your local food bank, or more international organizations like the NRDC which is geared towards climate change reform. There are just a few ideas. Your money will be well spent in any of these places.
Links:
https://www.thenation.com/
http://www.progressive.org/
http://razorcake.org/
http://www.motherjones.com/
https://www.nrdc.org/
There's a reason why Dr. Martens are A-listers in our book and that's because they make the damn finest shoes in existence. We live in the cold cold New England and few articles of clothing are as essential as the rubber that hits the road.
There's no question that Dr. Martens shoes are built to last and to withstand the elements like no other. As we've already said, you'd be an absolute fool not to own one of their boots. They're perfect for rain, snow, sleet, and other treacherous conditions. Forget rain boots or duck shoes, you need a pair of Dr. Martens boots to keep you safe.
A certain delights with this company is how they've branched out over the years and really spruced up their collection with modern and reinvented designs to keep things fresh and really keep their customers in mind. Nowadays there's a Dr. Marten shoe to fit every preference and they've managed to really make these styles their own.
But what lots of people forget is that Dr. Martens also has a fine line of accessories ranging from socks, to shirts, to hats to the oh-so-beautiful leather bags which are one of the few bags out there that you can use for traveling with your computer where you don't look like a total doofus.
We feature Dr. Martens at the top because all Holiday shopping should start with them. Check them out and thank us later.
One of the many things we love about Herschel clothing is how they seemed to have figured out exactly what we're missing in our lives. Their reach is far and wide. We consider ourselves fairly well dressed here on the site (except for weekends, when dad attire rules), and it's with the help of Herschel that we can make that happen.
Herschel has all your needs covered in the articles you forgot you needed. Have you seen the condition of your wallet lately? What about the fact that you've been needing a tote bar for all those trips you take to the supermarket wasting plastic bags. And the fact that you're still carrying an umbrella instead of just getting a rain coat? Have you noticed your backpack is completely on the frits? You don't even have any reliable strong luggage for those trips overseas or quick weekend trips. Get your life together!
But you've got nothing to worry about because a quick browse on the Herschel website and you realize that they've done the thinking for you. The colors on their clothing even vary from the sleek and cool to the absolute crazy looking. And personally, I'm digging their baseball collection which allows me to root for the Padres while still not looking like a total jock.
Seriously, head over to Herschel and actually complete your life's collection.
Sock it to me is one of those companies who did one thing so well that they've expanded to other worlds. Yes, their socks were stylish, comfortable, incredibly unique, and fun as all heckfire. Well, they've since expanded their expertise to the wonderful world of underwear, and not a moment too soon if you ask me.
Sock it to me makes the perfect kind of business socks that looks both formal and allows you to keep your identity. We all know what a drag it can be to wear the same ole thing day in and day out at work, so it's really important to keep things fun. And they have the same approach to their underwear, because they are comfortable and fun.
These guys now also make underwear that fits right, doesn't ride up (like their socks), and is strong and absorbent. And what's best? You can match with your favorite lady friend or guy friend and double up on their socks or undies. And best of all, they won't break the bank. Getting socks and underwear used to be the worst thing to get for Christmas, Sock it to Me has now made it the best.
I cannot express what a life changer it has been to incorporate biking into my daily life. The whole city of Boston has opened up to me and I have come to feel more part of my neighbourhoods by biking along its not-so-well-known streets. Also, that feeling of passing traffic on the way to work is pretty sweet. Although we could write a whole column on biking in Boston, but now let's just talk about safety.
You're gonna need accessories if you're going to be a good biker and the first thing you need to think about is your helmet. Worse is the fact that there just aren't that many cool helmet companies out there. None as cool as Bern at least.
Bearn has somehow figured out what other companies haven't which is that you don't want to look like a dork while wearing your helmet, because safety is supposed to be sexy. To combat that, Bern offers such a wide range of helmets, in all sorts of sizes and colors that you're bound to find the perfect helmet for you. And biking in Boston can be a chore in the winter but not with the Bernaclavas (NOT Baklavas) that they're the perfect comfortable protection you need from the freezing wind.
Biking isn't done right unless you're doing it with Bern.
We love Baxter of California and by now we're sure you know that. They've been there for us since the beginning offering the best in shaving products. The best blades, the best razors, the best everything. So you know they deliver on that front. But did you know that Baxter of California also makes some damn fine bathing and grooming products?
It's true! This time around we wanted to focus on the softer side of Baxter of California. Let me just start off by talking about their awesome Invigorating body wash. And I mean for the WHOLE body. This is the kind of body wash for guys like me who want one thing to do the job right and for your no-nonsense bathing needs. I even take mine to the gym to reduce the clutter. It'll get you the kind of clean you want and leave you smelling great.
And when you're done with your shower, try out some of their bar soaps which make such a lather that you will use it on your entire body, including on your head, as a shampoo. When you're done top if off with one of their excellent candles. Still the best stuff out there.
Oh and while you're at it, it's good to know that they also have some killer candles in their store. Yeah, you no longer have to buy those embarrassingly scented candles from THAT company. Instead, check out some of Baxter's candles like Sweet Ash and White Wood Three. Get your face looking good and have your place smelling good with Baxter of California.
https://www.baxterofcalifornia.com/products/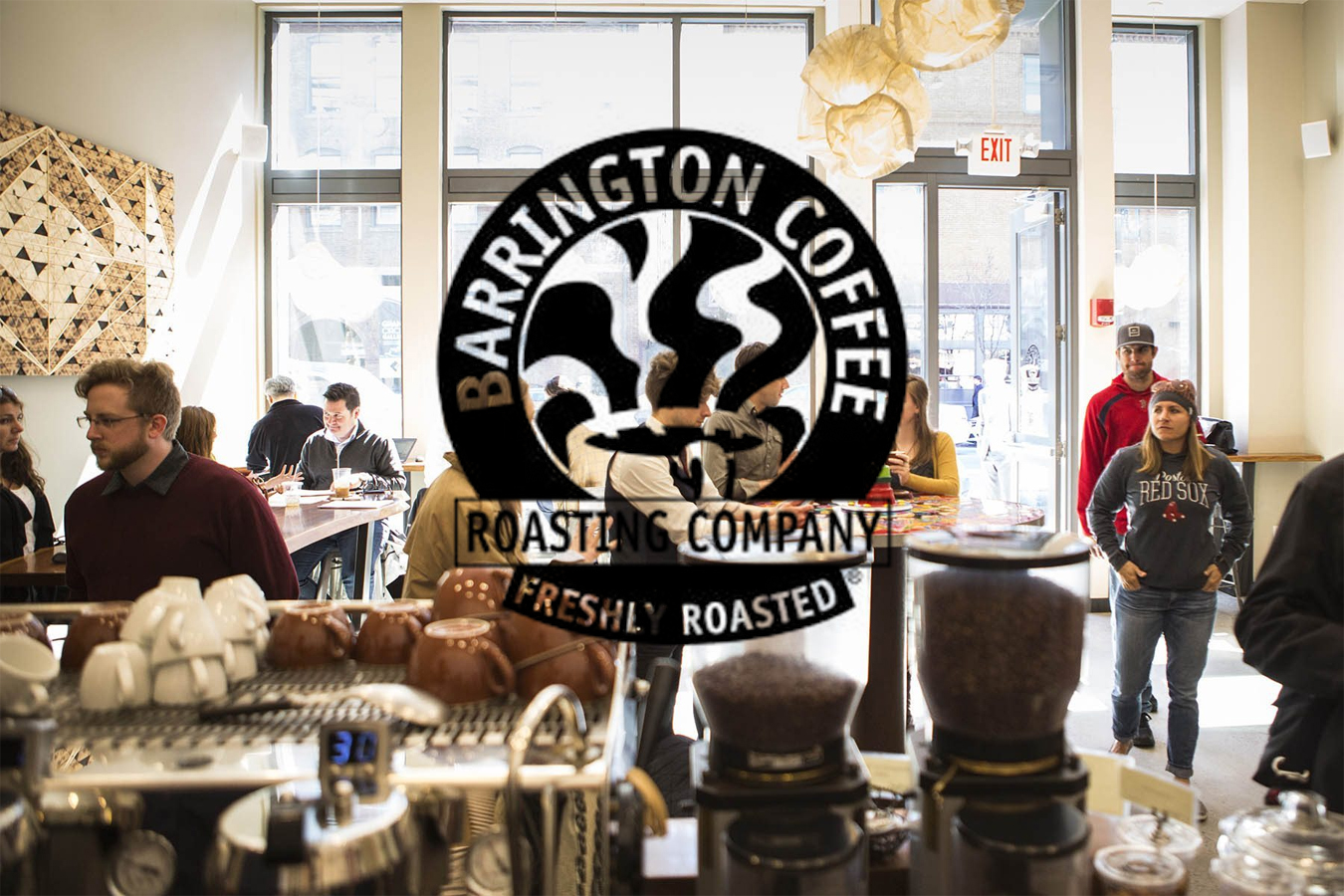 Barrington Coffee Roasting Company
We're pretty lucky to be living near the best damn coffee shop in the world. And there are many reasons why this place is the best: their attention to detail, the passion in every cup, and I'm damn sure it's also the kind of beans they use. Well, guess what, this shop uses none other than Barrington Coffee. That's all I needed to know to become a fan of these guys.
Barington is not just a proud local roaster here in New England, but they can be your private roaster too. That's because they offer a subscription service that caters to those who like their coffee light, dark, blended, cold brewed, or solely as espressos. Yes, we should all be supporting our local roasters, but even if you don't live in New England, these guys are worth a shot.
Personally I'm a dark roast guy and Barrington has some of the best around. Their French roast is deep and bold, and their Italian roast fragrant and full of flavor (just don't brew it for too long, or you'll taste that too).
Barrington knows coffee, and if you drink it, so will you.
La Colombe has become truly an impressive institution. They started as a small local shop in Philadelphia and have just about taken over the entire United States. Many a times have I frequented their locales while in the city of brotherly love. I have fond memories of their Rittenhouse Square location, and the accompaniment I would get from their iced Americanos on a hot summer day.
What La Colombe does as well as their coffee is focus on the presentation. Just look at their packaging and you'll know these guys are not messing around. They make coffee that tastes delicious in a packaging that's visually stimulating to behold and feels good in your hands. Their coffee beans even come in those great plastic bags with the built in air escape mechanism. As far as gift packages are concerned, La Colombe has got it figured out.
And a new addition to their repertoire is their cold brew packs. The peppermint latte cans are a perfect addition to any day for a coffee lover, whether it's cold or warm outside. They're not too sweet, but are full of flavor. Just what the doctor ordered.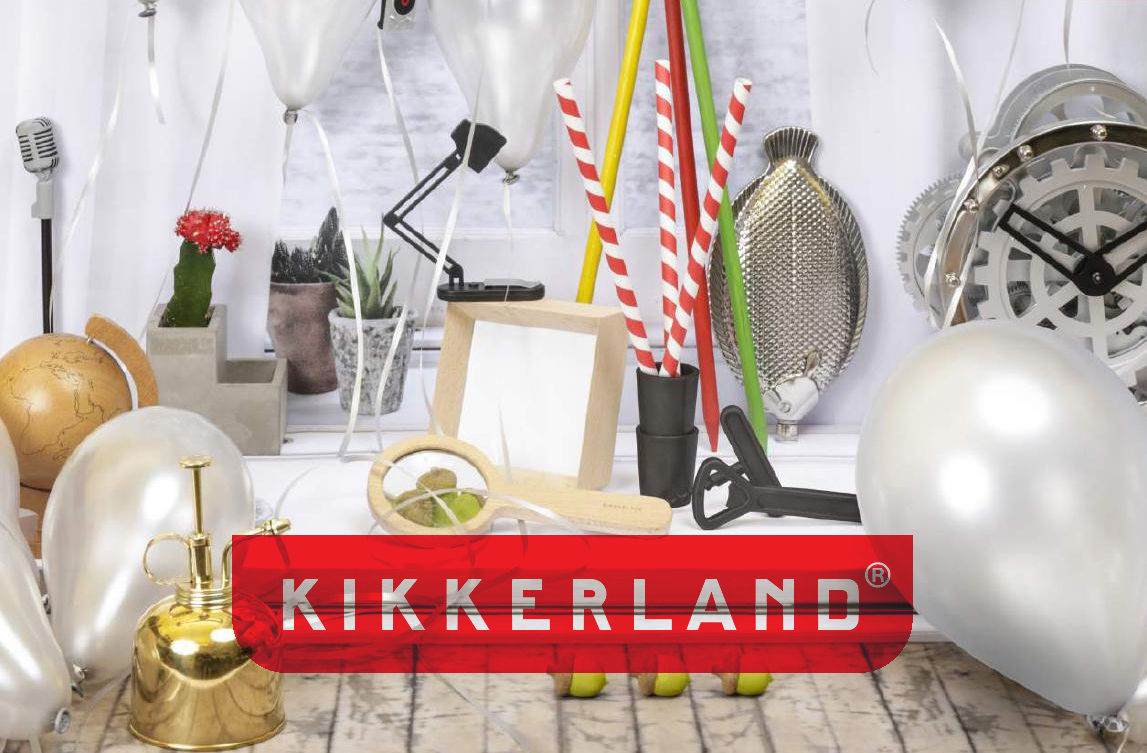 Kikkerland
Are you in that position where you feel like you have the right big gift ideas but you're still way behind on your stocking stuffers? My Christmas shopping list is loaded with infant cousins to shop for and quite honestly, it can be quite daunting to figure out what to shop for boys or girls aged 1-4. Well that means you haven't looked what Kikkerland has to offer, because these guys are the absolute masters of the stocking stuffers.
But what I really love about Kikkerland is that they're an absolute god-send when you're trying to find something for that person who has everything. Kikkerland seriously has it all and I don't say that lightly. With them you can find the perfect item for your kitchen, or your living room, or your bathroom, or your bedroom, or for outdoor activities. Who else do you know that offers such a variety of products?
And Kikkerland has cool designs in mind when you shop with them. Their windup toys are unique and bound to please adults and kids, their robots are innovative, their kitchen products are fun to use and will make you want to cook more, and their living room gear will perk up your house or apartment. I myself am also a fan of their outdoors gear and am rocking their bike accessories like their wireless speakers and phone holders which make biking to work fun for once.
We all have people that are hard to shop for and that's why you need to check out Kikkerland. Your Christmas shopping isn't complete without them.
Sennheiser has proven themselves time and time again as being absolute masters of audio equipment. Their mics are some of the best you'll ever find and an absolute staple for recording equipment. But what we want to talk about is their earbuds.
The CX 7.00 bt bluetooth earbuds deliver the crisp sound you need from all your music and are incredibly versatile. The key is in their design and CX 7.00 earbuds form such a snug fit in your ear that you're able to hear every bell and whistle perfectly. Not only that, Sennheiser knows the importance of bass so there's plenty of that here too.
And that's not all. Say goodbye to flimsy earbuds, because the CX 7.00 are built strong with thick wires which prevents them from ripping or from that strange phenomenon when only the left or right earbud dies out. None of that here.
Wow, it seems like like only yesterday we were lowering our standards and listening to crappy over the ear headphones with blown out treble or those terrible earbuds that come packaged with our MP3 players. You know which ones I'm talking about. Now it's become easier to get good reliable, high performing earbuds, and the CX 7.00 are at the top of the heap.
Ah, it's a sad time for audio fans. Why? Because it seems like the cabled earbuds are going the way of the dodo. That's right, how long until all the phone manufacturers follow the lead of Apple and refuse to put an audio jack in their phones? Are we going to rely on bluetooth for everything?
Fear not, because the folks at Jabra have you covered.
Jabra makes the ideal bluetooth wireless earphones for casual or sportswear.Their Halo Smart model is sturdy and fits around your neck. That means you can listen to music AND take your phone calls. At my work that's an absolute must, because I have to volley all these phone calls while I'm listening to my tunes. I don't want to listen to that copy machine go on all day!
But what about not-so-casual settings? The Jabra Elite 25e headphones offer that over-the-top quality audio with a bluetooth earphone that actually stays in! They're so comfortable. They deliver exquisite audio that will make you notice parts of your favorite songs you never knew existed before. Especially if you're a gross gorilla at the gym like I am.
And for those moments where you want a nice bluetooth speaker to fill your living room with rich sounds both musical and podcast based? The power of the Speak 710 speaker is undeniable and might I add, a breeze to set up. Now you can hear Ira Glass' monotonous drone in a whole new dimension!
Jabra makes some of the slickest designs in the market and offer the eye-catchiest earbuds in the biz.
I've developed a habit lately as a bearded fellow of grooming my beard as a source of relaxation. Whether I'm at home relaxing, or at work reading reports, or getting ready in the morning, that beard grooming part of my day is both meditative and relaxing and something that's hard to explain to the simple non-bearded. I think you fellow rugged readers know what I'm referring to here.
So, for something so important, why would you use an inferior product to sully your meditative routine? No, you need some beard grooming products that feel good on your beard, on your face, and in your hand. You need the well-crafted products from Rogue Beard company.
These guys keep it simple, because they know what they do and they know how to do it right. Rogue beard company offers an excellent set of wood carved combs and brushes that are stimulating to hold and use. That boar bristle going on your beard does the job of keeping your beard nice and kempt and not frizzy like you would if you used the wrong brush. And if beard oils are your thing, they even have you covered in that respect. Really, you should get the entire Rogue line both as stocking stuffers and as a beautiful gift set.
The right guy will get it, and he will be eternally grateful to you.
https://www.roguebeardcompany.com/
We've featured shirt companies here before on Ground Control, but few are as unique as Lifeform Clothing. Sometimes browsing Instagram while you're on the treadmill looking for cool shirt designs really does pay off.
There are so many reasons why we love Lifeform, and most of them have to do with the quality of their products. Forget those iron-ons or that stupid direct-to-shirt printing that's all the rage these days. Yes, that's fine for bulk production, but lucky for us, Lifeform is more focused on quality. These guys offer screen-printed designs on high quality shirts. Yes, you can start being proud of the shirts you wear and not worry about stupid fading or crackling after wearing your shirts, and trust us, you're going to be wearing these shirts quite a bit.
If you look through their catalog you'll notice a trend in their design, or should we say "approach" to artwork. You'll also undoubtedly find several products that you're going to fall in love with. Personally, we couldn't resist the Black Widow or Warg (yes, that's the most unique Lord of the Rings shirt you'll ever find).
But don't take our word for it, check out Lifeform Clothing. You'll doubt your religious beliefs and look good doing it.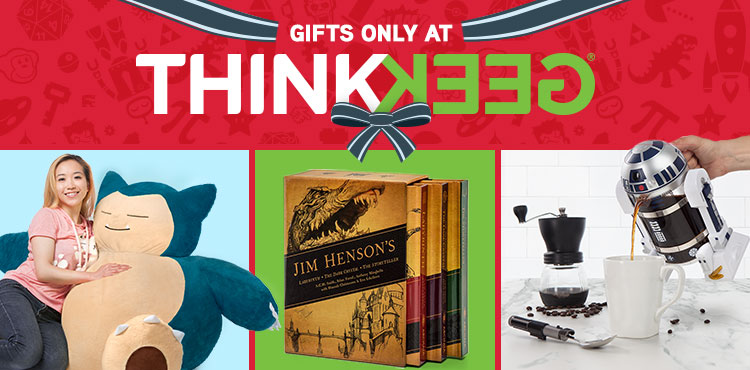 ThinkGeek
OK, so you're in desperate need of the perfect gift for that person that's hard to shop for. Ask yourself one question: is he/she/they a geek? Then, all your problems are solved. Lucky for you, the folks at ThinkGeek decided to do all the heavy lifting for those choosy gifters.
The way ThinkGeek is different is that they're not just your one-site stop for everything having to do with gaming, or nerdy, or pop-culture (and really, what IS nerdy anymore?), but they also have their own exclusive items along with some stellar favorites from all the coolest vendors.
Here on the site we're more a Star Trek bunch, and lucky for us, Think Geek has clothing, accessories, replicas, jewelry, tech stuff, and even drinkware that is boss and unique. For example their Star Trek tikis, or their Star Trek cat calendars. We dare you to find these exclusives anywhere else. I know, WHAT?
But of course that's not all. ThinkGeek has Star Wars, Harry Potter, Alien, video game stuff and so much more. So get off your ass, browse the Think Geek catalog, and get let them blow your mind.